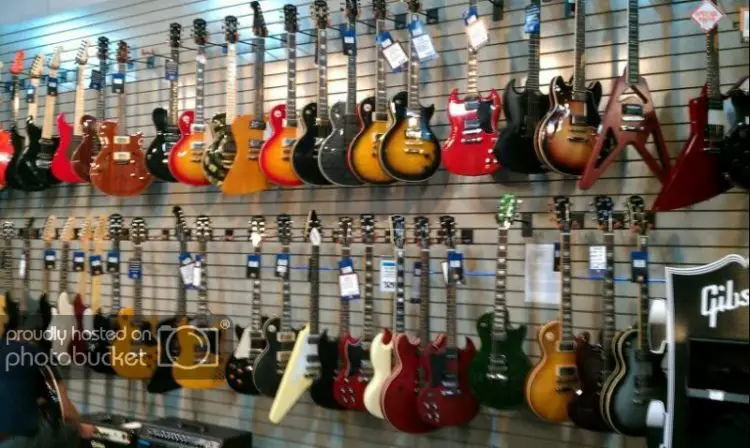 Most players all around the globe have the dream of purchasing Fender or Gibson guitars or basses. That's no wonder due to the extreme popularity and exposure these brands have experienced throughout the years. Well, for the record, there are some other brands that if maybe they aren't that famous, they gathered a fine and solid reputation. It's also true that most of them started out as copycats of the famous sisters.
Jackson
An American company based in Glendora, CA, a Jackson guitar is soon recognised for its headstocks and the bold bodies it makes. The brand was pretty popular among Heavy Metal artists in the 1980s. Jackson Guitars originated in 1980 when guitarist Randy Rhoads approached the company with an idea for an individualized guitar. The collaborative design effort between Rhoads, Grover Jackson, Tim Wilson, and Jackson's masterbuilder, Mike Shannon, resulted in the creation of the Concorde, an innovative revamp of the traditional Flying V. In the Fall of 2002, Fender purchased Jackson from IMC.
For more info, go to their home page.
Charvel
Charvel Guitars is also an American company based in Glendora, CA, and founded by Wayne Charvel, who worked for Fender Guitars, in 1974. The company had its glorious in the 1980s due to its appeal to Heavy Metal artists as Eddie Van Halen, Bon Jovi's Richie Sambora, Ratt's Warren DeMartini, Ozzy Osborne's Randy Rhoads and Jake E. Lee, Kiss's Vinnie Vincent, Twisted Sisters' Eddie Ojeda, Dokken's George Lynch, and the late, but not forgotten Savatage's Criss Oliva. Unfortunately, this legendary workshop of Charvel Guitars was burned down in the California wildfires. Even worse, the home of founder Wayne Charvel, was destroyed, as were the homes of five other Charvel family members
For more info, go to their home page.
B. C. Rich
B. C. Rich stands for Bernardo Chavez Rico, its founder in 1969 in Los Angeles, CA. The company got famous due to its atypical body which called the attention to many hard rock/Heavy Metal artists. Its most famous model is the Warlock the guitar that paved the way to the company's success in the 1980.
Yamaha
One of the biggest Japanese industrial groups, Yamaha started out as an instrument manufacturer, the company history began when its founder, Torakusu Yamaha, repaired a broken reed organ in 1887. Shortly thereafter, he successfully completed the first reed organ to be built in Japan. That's why in 1898, a "Chinese phoenix holding a tuning fork in its mouth" was chosen to be their famous logo which was simplified in 1916 for only the tuning forks. Some changes after, the forks came back in 1967.
For more info, go to their home page.
Ibanez
Another great company from Japan, Ibanez is maybe one of the most famous guitar manufacturer besides Fender and Gibson. Ibanez has accomplished throught the years an aura of a great manufacturer and solid products. The company's real breakthrough was introducing the first mass-produced 7-string and 8-string guitars with the help of Steve Vai. Ibanez also mantains a solid electronics and accessory line . Their list of artist is really impressive with a line of signature instruments as well. Read here an interesting article about Ibanez.
For more info, go to their home page.
ESP
One more Japanese company in the area. One can tell that ESP is the lesser sister among those two Japanese giants presented here. ESP stands for  Electric Sound Products and it was founded by Hisatake Shibuya as a shop in Tokyo in 1975. One of the first axeman that hold the ESP brand was Loudness's Akira Takasaki, but soon Dokken's George Lynch discovered them while on tour in Tokyo. Among the famous guitarists that hold an ESP are Helmet's Page Hamilton, Living Colour's Vernon Reid, former Kiss's Vinnie Vincent and Bruce Kulick and Roling Stones' Ron Wood.
For more info, go to their home page.
Steinberger
If there is an uncanny looking guitar, this is Steinberger with it's retangular near V-shaped body which seems to have something missing. The solutions Steinberger found to get a lighter instrument are creative, though, as I said, uncanny looking. First of all, there are no headstocks and the tunning pegs were moved near the bridge. Rush's Geddy Lee had one in the 1980's when the brand was immediately linked to avant-garde artists. Steinberger is now part of the Gibson Group.
For more info, go to their home page.
Dean

Dean Guitars is an American company founded in 1977 by musicans and is still musician-owned. It produces  basses and acoustic as well. The list of famous artists that used, or uses, Dean includes names as Iron Maiden's Dave Murray, Megadeth's Dave Mustaine, Arch Enemy's Michael Ammot, Michael Schencker, Mountain's Leslie West, Vinnie More, and the late but not forgotten, Pantera's Dimebag Darrel. Pretty impressive, huh?
For more info, go to their home page.