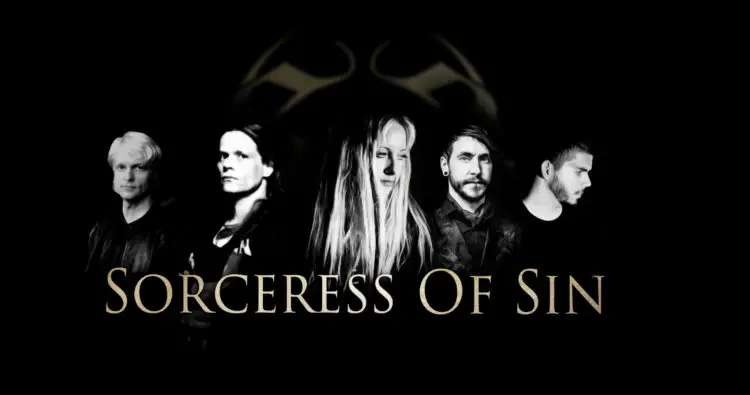 'Sorceress of Sin' as a band was an evolution of ideas and meetings of fortune.  Lisa met Constantine by chance a few years ago and musical ideas were bounced back and forth but it never really came to more than just demo ideas mainly due to a lack of recording technical knowledge and no real idea how to progress further with those ideas.
Later, Lisa was introduced to Tom and once his dedication and knowledge was on board the ball was rolling and just never stopped! Tom then brought in Topher as a final fit for the dynamic bass lines needed.  The concept and name of the band was an encapsulation and image of the lyrical content of the tracks chosen for the debut album.  Constantine and Paul are heavily in to melodic power metal and have been involved with bands of that genre for many years, their knowledge and depth of understanding of the requirements of power metal is vast and they both used this experience in the writing of this album and added their own personal melodic twists and feel.
Topher and Tom specialise in different styles of metal than that of melodic power metal and their musical experience added an extra dimension.  Lisa has evolved her voice over the years to a metal sound and her lyrics are heartfelt, complex and deep in their meaning. We have all enjoyed embarking on an adventure that we look forward to continuing for many years.  Lisa and Constantine were both initially classically trained and this has been of paramount importance during the creation of 'Mirrored Revenge.'
There are elements of classical influences peppered throughout, maintaining a diversity and depth to the overall sound.  The symphonic nuances have been added mainly as a result of Toms influence which, has been an enormous asset to the final product of the band and we will look to expand the use of an increased symphonic sound in the writing of our upcoming second album.

Band Line-Up:
Lisa Skinner – Vocalist & Lyricist
Constantine Kanakis – Lead Guitar
Paul Skinner – Drums
Topher O'Meagher – Bass Guitar
Tom Maclean – Engineer, Guest Bass & Orchestral Production
Read our review here.