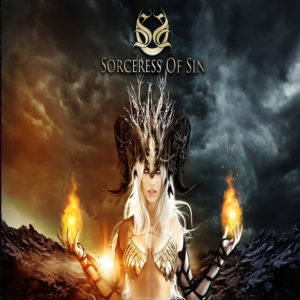 Ah, the screaming and the yelling that come form he deepest bottoms of the lungs. Two major forces of Metal music. What would Metal be without all the yelling and the screaming? Pop, I guess. Vocalist Lisa Skinner has all the merits in doing all this and much more in "Mirrored Revenge." The girl is the owner of a very unique voice. The things she does here are completely out of the box because she manages to mix very difficult technical skills with athe natural talent she has. Useless to say that she is a natural talent. In fact, the most amazing is that she doesn't have the girly standard voice. Her voice is a bit lower than the average which allows her to either give high pitches and to sing in a lower tone. Out of the screams and yells I mentioned before. What she does in opening track "Vixen of Virtue" is a mix of all that. The track is a very good invitation card to all her capabilities and she uses them all flawlessly. An interesting fact is that she also imposes her voice in order to give a notion that she's singing with a foreign accent. When the fan listens to "Vixen of Virtue" and "Aradia" the feeling will be that English isn't her mother tongue. 
In fact, to be truthful, neither are Sorceress of Sin a typical Power Metal band as pinpointed in the press release. The band explores other subgenres of Metal in this album as in the beautiful ballad "Echoes of Existence" where Lisa Skinner shows the operatic facet of her voice. As in many Power Metal efforts, the drums gets relevance and allows drummers to show their talent. Drummer Paul Skinner also does a wonderful job here hitting hard when necessary and faster when the music asks for it. Unlike the great majority of its peers, "Mirrored Revenge" varies a lot the themes. That allows the album not too sound too monolithic when the fan feels that it's the same track throughout the album. "Parallel Lies," for instance, sounds very Ozzy Osbournish in his earlier albums. Of course, as it's always needed in efforts like this, Speed Metal hell – yeah! – appears in the grand finale with "Empyre of Stones," a hard and harsh track that shows all the aggression the band has to deliver us.
We are witnessing a band that got what many bands desire and look for, but just a few achieve. That thing is called personality. "Mirrored Revenge" shows a band that knows exactly how to sound and how to impress their mark into their music. Sorceress of Sin are clearly a band to reminded in the future.
Sorceress of Sin "Mirrored Revenge" was independently released on November 23rd.
Track Listing:
Vixen of Virtue
Multifaceted Survival
Mirrored Revenge
Wicked Distortion
Splintered Shard
Aradia
Echoes of Existence
Parallel Lies
Cold Carnality
Empyre of Stones
Watch "Vixen of Virtue" official lyric video here:
Watch