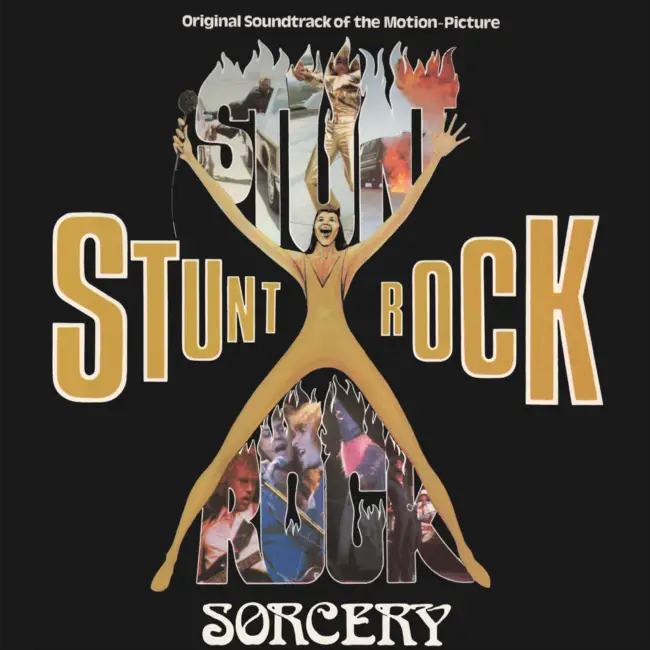 This album has an interesting story. Tis is really the soundtrack of a movie called "Stunt Rock" which was released in 1978. This 1978 low budget, high concept B-movie integrated hard rock, magic, dangerous stunts and an early form of mockumentary filmmaking into an epic feature film about an Australian stunt man reunited with his American cousin (and Sorcery member) in L.A., and all Hell breaks loose. Sorcery consist of professional musicians — the core group being guitarist Richard (Smokey) Taylor, vocalist Greg Magie and bassist Richie King — two magicians also perform on stage when they play live. The band's nearly immediate local popularity from their debut in 1975 also made them in demand for film and TV. So, this album is the real deal from the 1970s hodgepodge of influences and mixes with Hard Rock.  The album alternates heavy music as Uriah Heep, Kiss, Alice Cooper, and the early Judas Priest. Some kind of Space Rock mixed of little dashes of Progressive Rock and lots of Hard Rock. To some extent what Sorcery showcase here is a little anarchic due to the intense atmosphere of experimentation – a different kind of experimentation that is done today. The music in here is a great sample of the out of the box music and scene that was on the spotlight those days long gone – Ah, and to think I was already born in 1978…
The album is kicked off by foot-on-the-road "Sacrifice" a track inspired on the sunny roads riding a Harley Davidson – or even my 1990 Honda CB 450 Custom – with the sun and the wind in your your face. Typical adrenalized track to enjoy anytime and feel the experience of going back in time with a great soundtrack. The best thing in the album is the varied keyboards sonancies from a Space Rock and ethereal mood to a Deep Purple overtone. You know, it's so hard to highlight the keyboards in a Hard Rock album but the 1970s are made of all these things. Try grand finale "Power Mad" and dare to tell me it isn't so. "Wizard's Council" has its share of weirdness with the spoken intro and the moody cadence. Lots of guitar effects and a great guitar riff. The song has the DNA of Alice Cooper though a bit heavier. But the spirit of it is pure Alice and his Billion Dollar Baby band. Great guitar solo. "Talking to the Devil" has the guitar riffing with the spirit of Proto Metal. Following track ttrack "Burned Alive" brings some The Who "Tommy" era traits though much heavier. As my dear fan can notice this album is really a hodgepodge and a cauldron of influences.
To listen and get to know "Stunt Rock Soundtrack" was a great experience. The music in here is the pure 1970s with all the insane mix and great to recognise some early Metal traits in it. My dear fan that listen to out of the box music will love this album not only for the aforemention roots but because the music is just great.
Sorcery "Stunt Rock Soundtrack" will be released on July 15th via RidingEasy Records.
Track Listing:
Sacrifice
Wizard's Council
Talking to the Devil
Burned Alive
Book of Magic
Stuntrocker
Mark of the Beast
The Bird Song
Wicked City
Woman
Power Mad
Watch "Sacrifice" official video here: