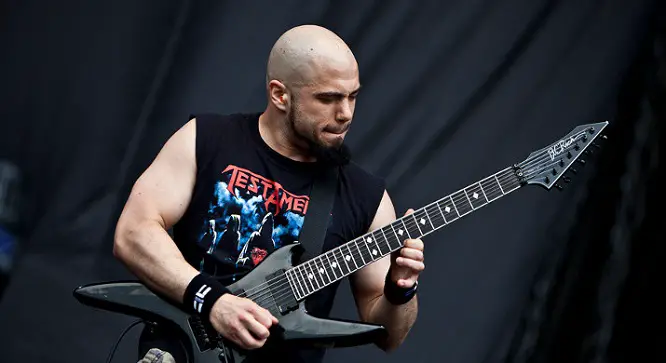 Connecticut metal band DEAD BY WEDNESDAY, currently enjoying the success of their highly praised EMP Label group release The Darkest of Angels, is proud to announce the newest addition to their lineup. With the complexity of their newer sound, they have decided to add a second guitar player to their lineup, that player is none other than Marc Rizzo of Soulfly and Cavelera Conspiracy, and original songwriter / founding member of Ill Nino. A long-time friend and collaborator of DBW's drummer, Opus, Rizzo is featured on DOA track, "The Surgeon." He will be writing and recording on their next album, and doing select tours and shows around his Soulfly schedule.
Marc and DBW are excited about this new venture. Marc has released the following statement:
"I am excited to announce that I will be joining one of my new favorite bands Dead by Wednesday! When I have time off from Soulfly, I will be playing shows and recording a new record with DBW!!! DBW newest record is one of the best records of this year, and I'm stoked to play live with these guys soon!!! LET'S shred!!"
The band recently released the video for "Live Again (feat. Brian Fair of Shadows Fall)" which can be seen below.
The Darkest of Angels features 11 killer tracks with 11 heavyweight guest vocalists including, Brian Fair (Shadows Fall), AK (Flotsam and Jetsam), John Arch (Fates Warning), Rob Dukes (Generation Kill, ex-Exodus), Carley Coma (Candiria), Waylon Reavis (ex-Mushroomhead), Sean Danielson (Smile Empty Soul), Paul Stoddard (Diecast), Kris Keyes (formerly Gargauntua Soul), Antony Linesmen (Armageddon) and Ceschi Ramos (Fake Four, Inc.).The album was produced at Dexter's Lab by Nick Bellmore.
Prior to the recording of DARKEST OF ANGELS, the band parted ways with long-time singer Joe Morbidelli due to his ongoing battle with substance abuse. Despite the heartache and disappointment of his departure, the band continued to write, pouring their grief into their music. And instead of rushing into a replacement, the band decided to create an entire album featuring tracks sang, and co-written, with guest vocalists, friends from prominent metal bands, each of who has had an impact on their lives, professionally or personally, keeping each song to the themes of addiction and substance abuse, as an ode to their former singer and his struggle. The result is an eclectic and emotional concept album that showcases the raw talent of DBW's writing combined with the unique style of each guest vocalist.
After months of auditions, DBW finally found their replacement, 6'5 powerhouse Rob Roy, who makes his debut on emotional DOA standout track "The Surgeon". Together with Joey Concepcion on guitar (who also plays in Armageddon with Arch Enemy's Chris Amott), Opus on drums (who also plays with Marc Rizzo of Soulfly) and Mike Modeste on bass, the band has morphed into an unstoppable international act. Throughout over a decade as a band, DBW have toured relentlessly, and along the way developed their own sound and style, creating a fierce loyal fan base along the way. And now with an undeniable new lineup, Dead By Wednesday is here to stay, a "Phoenix rising from the fire."