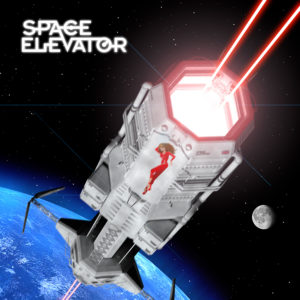 It's great to have the chance to follow a band career. This time we're doing a retrospective. Weeks ago we reviewed Space Elevator's second effort. Now it's the time to review thier first effort simply called "Space Elevator I." At first, the impression we get is that Space Elevator dropped most of their radio 1980ish pop intent in this movement. "Space Elevator I" is more radio oriented. There are more ballads. For instance, second, third, and fourth tracks are ballad oriented. There are more pianos. Though, it's a bit anachronic. One gets the feeling it doesn't belong to this time. But, I guess, that is the intent.
"Space Elevator I" is for the nostalgic at heart. It captures the very spirit of 1980s pop radios. A well-worn kind of pop rock, I must say, but really effective these days when people are looking for music with some substance, not that plastic music played all around. There are some beautiful and strong guitar passages as the solo in "Ordinary Day." Of course, The Duchess wins the day. Her voice does all the magic. Not to mention it's pretty eclectic as in "Little White Lies" and its Beatles intro effects. Something like "Lucy in the Sky With Diamonds" spirit. Her voice gives the most 1980s spirit I mentioned. Music to play on the radio that time were vocals oriented. I mean, vocals had to be in front of the band. Instrumentals were only a kind of dressing. "Loneliness of Love" gives this perfect idea. Roxette are a good example of this kind of music. I am forced to remember that some headbangers used to listen to Roxette hidden in their rooms. Shame on you, guys! The beauty of the modern days is that one doesn't have to listen to anything hidden. Well, at least I guess so.
Some tunes are too sweet, others are stronger. One thing you can't say about "Space Elevator I" is that it doesn't an attitude. This band has lots of it. So do I to bring it to a Metal page. Don't you agree?
Space Elevator "Space Elevator I" was released on June 22nd via Steamhammer / SPV.
Track Listing:
Elevator
We Are the Losers
I Will Find You (Gallifrey Dreams)
Ordinary Days
Little White Lies
Loneliness of Love
More Than Enough
Really Don't Care
Oils and Bubbles
We Can Fly
Move On
Don't Believe a Word
Watch "We Can Fly" official video here: