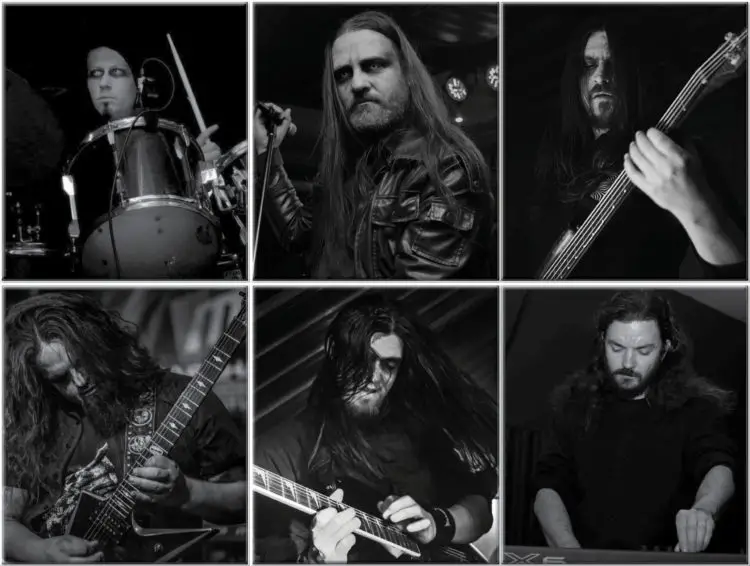 Hailing from Johannesburg, Lord Onyr (Lead Guitarist/Composer) and his brother Septic Sceptre (Vocals) started playing guitars and drums in a small room with hand painted band logos as far back as 2001. With the passion for writing music for multi instruments, Lord Onyr came up with the idea of Spectral Realm in 2006 as a solo project. Although guitar is Lord Onyr's preferred instrument, he played keyboards in an upcoming band between 2008 to 2010. By this time, he already had an arsenal of his own songs written and ready to be unleashed on stages with a full live band.
Septic Sceptre was the first member to join the band and lyrically complimented the fantasy-based theme. Finding their sound in melodic death and symphonic black metal mixed with traces of thrash and technicality; Spectral Realm were formed as a full 6-piece band in July 2010. Once the line-up was established, the band played several shows around Gauteng, South Africa.
In 2012, Spectral Realm opened for the Italian Metal Giants, FLESHGOD APOCALYPSE on the final leg of their South African tour. By 2013 the band had already stamped their mark on the local metal scene and was performing finalists at the first South African Wacken Metal Battle.
Towards the end of 2013 to early 2015, the band almost completed the recording of its debut album, 'Voyage to Spectral Realm.' It was during this time that they teamed up with Calvyn and Allen Purkiss from Dreamlab Studios to mix, master and produce the album. Calvyn recorded the drums and not long after became the full-time drummer of the band.
After 'Voyage to the Spectral Realm' was independently released, the band played many more shows countrywide and opened for the Belgian death metal band, ABORTED.
They also played alongside Italian band PULVIS ET UMBRA and NERVOCHAOS from Brazil during their South African visits.
After various line-up changes, Spectral Realm settled with a strong unit by 2018. Partnering with musicians that have proven their mettle in their various bands, Spectral Realm was ready to record their sophomore album. Lord Onyr had all the musical arrangements mapped. For many years in the making, Lord Onyr and Septic Sceptre worked towards writing an album that tells the story of a South African ghost legend and felt a strong connection to the tale of the 'Witch of the Hex River Valley.' Spectral Realm felt that this tale had to be told with a bit of science fiction to give it a real dark feel.
The album was independently released on July 20th, 2020. All lyrics are written by Septic Sceptre except for the final track that was written by Lord Onyr. A combination that worked extremely well. Lord Onyr recorded the vocals for this track.
As was the case with the first album, Spectral Realm again joined forces with Calvyn and Allen Purkiss from Dreamlab Studios. They produced an album of outstanding quality. Since the album's release, it has gained positive reception that will satisfy old and new fans alike.
Spectral Realm are by no means slowing down and music has already been written for an entire new full-length album.

Band Line-Up:
Lord Onyr – Composer, Guitars, Vocals
Septic Sceptre – Vocals, Lyrics
Calvyn – Drums, Sound Engineer
Ethorius – Rhythm Guitar
Andromeda – Bass
Neville Cameron Shield – Keys
Read our review here.