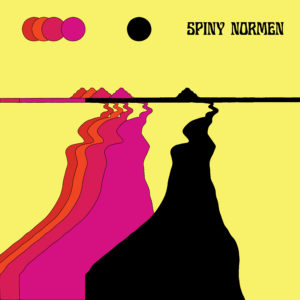 I praise the Lord everyday for having gotten this job. After thirty years of really hard work I decided to give myself a chance to do something with my own life that I would really enjoy. And that thing is music. Not ordinary music, which I despise, but heavy music. A kind of music with soul for real people who live real lives. Not a plastic one they try to make us swallow everyday.
That also means an open mind to listen everything from the origins of Metal to everything on extreme Metal. And sometimes we bump into some weird stuff as Spiny Normen which fits in the first category.  An uncanny odd psychedelic heavy rock band. Make no mistake, they are the real deal. Spiny Normen are a mid-1970s band who take the word weird seriously. Well, if you are aware of what kind of music they were doing in the 1970s, this "Spiny Normen" won't be so weird. In fact, it'll be real pleasant.
"Spiny Normen" is an album that mixes usual formulas from the 1970s and some experimental ones. The title progressive fits really well to them in tracks like "Wrecko Wild Man Ride" whose title says it all.  But the most amazing thing about Spiny Normen is the fact that they love to use unusual instruments even for the 1970s. That's their staple and what makes their music really pleasant. Spiny Normen bounce easyly from heavy rock stuff with great fuzzy guitars to delicate pieces full of flutes and keyboards – as a matter of fact, not a keyboard, but the melotron -, as in "Carry Your Water" and its early Deep Purple and Uriah Heep taste. The fuzzy guitar solo is really something. The intro in "The Monkeyweasel" is also remarkable. Pretty progressive, but heavy as well. It reminds a lot Iron Buttlerfly. Mostly by its lyrics. Take a look at the song titles and notice they're really a trip.
Well, my Metal boys and girls, if you are in the mood for something really groovy, here's "Spiny Normen." There are times as the guitar riff in "To Meet the Mad Hatter" that will make you feel the taste of Metal.
Spiny Normen "Spiny Normen" was released on March 01st via Riding Easy Records.
Track Listing:
Arrowhead
Wrecko Wild Man Ride
Carry Your Water
The Monkeyweasel
To Meet the Mad Hatter
The Bell Park Loon
In the Darkness of Night
The Sound of Younger Times
Watch "Carry Your Water" official lyric video here: