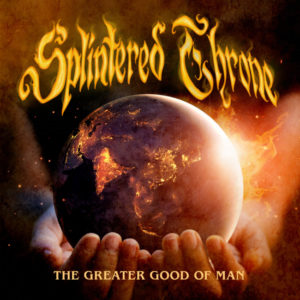 It's great when band, album, and songs complete an idea. Well, at least this is my guess that Splintered Throne with "The Greater Good of Man" and all the tracks have the same basic idea that complete each other. By the way, the CD cover also fit the idea. Well, I guess. In my opinion. So, what that idea would be. My guess is something related to the spiritual side of humankind. "The Greater Good of Man" means a lot, if you know what I mean. It's a positive message to the ones that believe this is only a phase and humankind will overcome it all. All right, only if we stay together as one with one goal that it is to save our planet while still there is time. For "The Greater Good of Man" is also a message and a stand with Lisa Mann's voice which also gives me this idea of hope with all the heart she gives to songs. It's an affirmative action if I could say that.
Musicwise, Splintered Throne with "The Greater Good of Man" sound a lot as Iron Maiden. I mean, it's not that the music in here is a copycat of Iron Maiden. No, no, no, it isn't. It's just that it's possible to feel the influence and the power Iron Maiden had to the creative process of the band. I really don't how bands feel when I compare them to other bands but I do it to give my dear fan an idea of their sonancy. It gets so much easier having the idea in mind. I really mean that the music is hard and heavy and pungent. Sometimes fast, sometimes melodic, but always powerful. And technically flawless. It's possible to feel all by the guitars and their riffing and phrases. A song as album opener "The Reaper is Calling" and also "Immortal" give the fan that idea. The organic and natural riffing prove that to the fan. "The Greater Good of Man" has a foot on Power Metal without being Power Metal as Iron Maiden do. Songs are heavy and fast but with that finesse that only the real talented can have. By the way, I really love the guitar overtones around the album especially in "Time Stands Still" and its powerhouse of twin guitars and phrases. Not to forget the powerful epic feeling that the chorus give the fan.
If my dear fan loves the good Old School Metal Splintered Throne with "The Greater Good of Man" is the real deal. Good tunes with lots of emotion and heart with a female vocal the thing I liked the most. The album is neat and well produced with it doesn't lack its organic traits. The album isn't overproduced that's the thing. It's just care.
Splintered Throne "The Greater Good of Man" will be released on August 19th.
Track Listing:
The Reaper is Calling
The Crossing
Morning Star Rising
The Greater Good of Man
Let it Rain
Underdogs
Night of the Heathens
Time Stands Still
Immortal 2020 (Remastered)
Watch "The Greater Good of Man" official audio here: