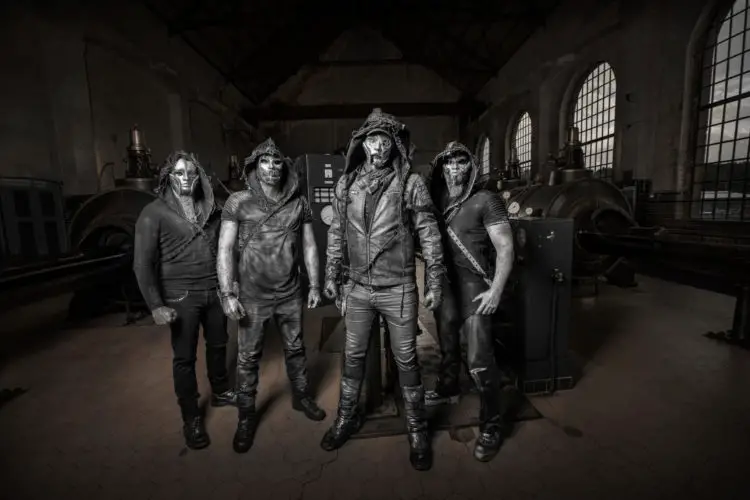 Finally, it's here! Advertised for months, eagerly awaited by fans and already on everyone`s lips with the pre-release singles/videos 'Sünder,' 'Gottmaschine' and 'Krähen der Nacht': On December, 10th 2021 the Göttingen NDH/German rock formation Stahlmann will release their latest studio album QUARZ. As announced, it is the band`s most varied and sophisticated work to date. With his bandmates Mario Sobotka (guitar) and Dimitrios 'Tacki' Gatsios (drums), frontman Martin 'Mart' Soer (vocals, programming) has recorded ten powerful and multi-layered songs that skillfully bring the typical Stahlmann style into focus. Mart: "We've deliberately returned to our roots this time to revive the old-school NDH directives of our first three albums. Naturally, these influences have been combined with current, contemporary ideas. The result is a balanced, well-rounded album, catchy but still with all the raw edges Stahlmann is known for."
Martin Soer is referring to songs like 'Gegen den Strom,' 'Tobsucht' or their current club focus single 'Wollust' (release date: 15 October), but also to their dance-style song 'Herz und Tränen', their pre-release track 'Gottmaschine' mentioned above, or their brashly powerful 'Willst Du.' And then, there is their groovy 'Sonnenreich' with a skillful mixture of NDH influences and German rock, as well as their ballad 'Der Sturm,' that comes with its own symphonic string accompaniment and a decidedly sensual love story.
By the way: QUARZ, too, is bursting with eloquent lyrics, the underlying meaning of which Martin Soer has deliberately laced with double entendres. He says: "As diverse as our topics are – from the ever-popular sex and eroticism in 'Der Sturm' or 'Willst Du', to the critical evaluation of the glorification of alleged deities in 'Sonnenreich', to our appeal in 'Krähen der Nacht' to boldly keep taking on new challenges, without forgetting your own roots – it's basically an ironic wink, along with our wish to our fans to not rack their brains too much over seemingly heavy subjects."
In addition to numerous fresh influences, Stahlmann have again recorded various songs on QUARZ featuring the band`s characteristic "one-word NDH choruses", as Soer has dubbed them. It fits in with their album title and cover artwork. "With QUARZ, we wanted to connect thematically to our earlier releases QUECKSILBER, ADAMANT or CO²," Martin Soer explains. The artwork – a shiny, pseudo-metallic cover, reminiscent of a mineral – is based on his idea.
The four musicians are also sporting new stage and press outfits, designed and manufactured by Martin Soer and Anika Schönewolf in the Thuringian fashion/costume company 'Tourniquet Costume Art'. That goes hand in hand with the band's announcement to break in those remarkable outfits publicly during  their extensive Tour through Germany in March 2022.
Last but not least: QUARZ was produced by Martin Soer. Stahlmann had the album mixed and mastered by renowned sound engineer Frank Gryner (Rob Zombie, Andrew W.K., A Perfect Circle) in his 'God Complex Production Studio' in Ontario, Canada. A worthwhile decision, because Gryner has added considerable finishing touches to the production, giving it the desired flashy, impactful sound.
Read our review here.