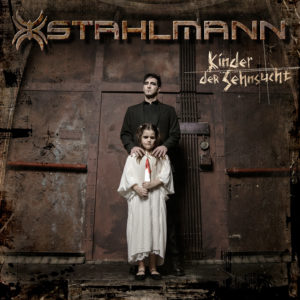 I may be an old annoying grumpy metalhead, but Industrial Metal never came into my mind. Though I sometimes find attractive the mix of distorted guitars and electronic effects, on the other hand I think of them as a sick thing, but not in the good way we generally refer to. That said, in fact, I have to admit that Stahlmann "Die Besten" made my mind up. The strange, but catchy chorus in the beginning made the magic. The effect of the harsher and gritty voice trying to do the "ohohohohoh" in the good old Accept way is remarkable. The lack of electronic effects helped a lot too. At least remarkable ones.
A fun fact about "Kinder der Sehnsucht" is that from where I'm standing, German language fits so perfectly to Industrial Metal that a layman may think it is a perfect match. No kidding, German fits perfect to this kind of music, just don't ask me why I think this way. I guess that the feeling that disgusts me about Industrial Metal is because it is so earthly. The sickos that populates all the imaginary around it are so earthlike, too human. That's the point. Human perversions frightens me more than spiritual ones. I'm more afraid of the living than of the dead. True.
But the highlight of the album isn't a tough or hard track, it's the gentle and sweet balad "wenn Du gehst" that features vocalist Blue May Rose. The contrasts among the harsher guitar, sweet female voice, and effects are  killers. Such a remarkable track. Well, in fact, Stahlmann do a pretty good job mixing guitars with electronic effects creating a sometimes an intriguing atmosphere as in "Die besten AMIworx RMX" where strong and fat guitars give the tone interweaven by some pounding effects that contribute a lot to it.
Well, in general, I avoid Industrial Metal efforts, but this "Kinder der Sehnsucht" was a good one to wash away all the grudges I have. Of course, it will take a lot more to change my opinion comletely, but it sure is a good start.
Stahlmann "Kinder der Sehnsucht" was released on March 22nd via AFM Records.
Track Listing:
Vom Himmel verloren
Wahrheit oder Pflicht
Die Besten
Mein Leben faellt
Kinder der Sehnsucht
Schliess deine Augen
Hoerst Du wie mein Herz schlaegt
Regen
wenn Du gehst
Sinnlich
Die besten AMIworx RMX
Watch "Kinder der Sehnsucht" official video here: