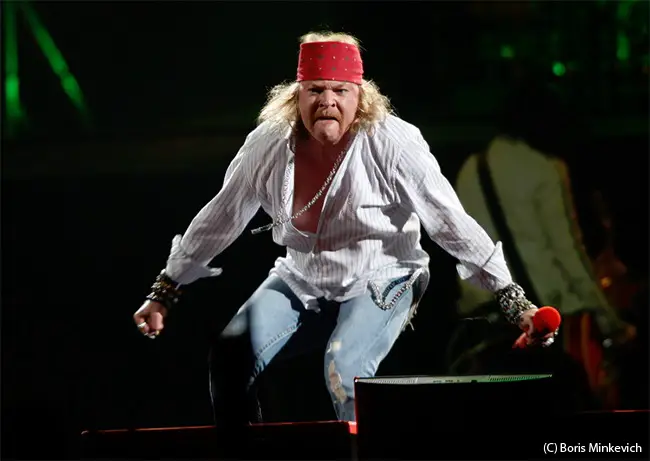 Tommy Lee, Axl Rose and Sebastian Bach criticized President Trump for his insensivity towards recent California wildfires. The stars got angry with Trump's  over his tweets blaming the "costly" fires on "gross mismanagement of the forests," adding "Remedy now, or no more Fed payments!" Trump has done it again.
The Woolsey fire broke out late Thursday evening, affecting the Thousand Oaks, Malibu, Calabasas, Agoura and Hidden Hills areas of Southern California. It has since doubled in size to 83,275 acres acres, destroying at least 177 homes and forcing the evacuation of more than 265,000 people.
The fire remained at five percent containment as of Saturday night. At least 2,000 firefighters had been dispatched to battle the blaze.
California officials and fire experts, including the head of the state's largest firefighters association, blasted Trump's comments as simplistic and ill-informed, noting that the federal government itself owns more than half of California's forest land.
The Pasadena Firefighters Association declared the president "wrong."
"The fires in So. Cal are urban interface fires and have NOTHING to do with forest management," the association tweeted.
Brian Rice, president of the California Professional Firefighters union, agreed.
"The firefighters and the communities in this state deserve an apology," he said.
"Malibu is not a logged area. It's rolling hills and chaparral."
What's more, he said, most of the state's forests are managed by the federal government.
"The president of the United States is ignorant of the process of forest management and wildfires," he said.
There is no reason for these massive, deadly and costly forest fires in California except that forest management is so poor. Billions of dollars are given each year, with so many lives lost, all because of gross mismanagement of the forests. Remedy now, or no more Fed payments!

— Donald J. Trump (@realDonaldTrump) November 10, 2018
Um…actually…it's a lack of federal funding that's at the "root" of the purported forest mismanagement. Only a demented n' truly pathetic individual would twist that around n' use a tragedy to once again misrepresent facts for attempted public/political gain at other's expense

— Axl Rose (@axlrose) November 11, 2018
More than 4,000 are fighting the Camp and Woolsey Fires in California that have burned over 170,000 acres. Our hearts are with those fighting the fires, the 52,000 who have evacuated, and the families of the 11 who have died. The destruction is catastrophic. God Bless them all.

— Donald J. Trump (@realDonaldTrump) November 10, 2018