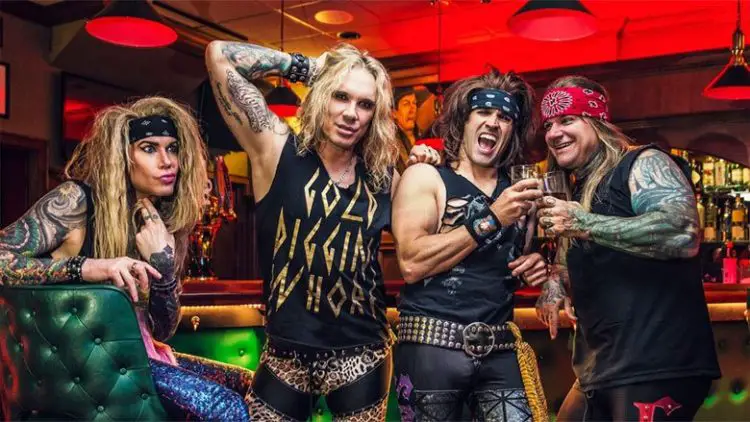 As previously reported,  Nikki Sixx has said that he is the most underrated bass player ever.
After one fan asked him on Twitter to name "the most underrated bass player ever," MÖTLEY CRÜE bassist simply replied: "Me."
Now, STEEL PANTHER drummer Stix Zadinia has poked fun at Nikki Sixx's claim that he doesn't get the credit that he deserves as a bass player.
Stix wrote on Twitter: "Yeah. Right. WAY more underrated than Geddy Lee, Eddie Jackson, and Skid from LOVE/HATE…….shall I go on? "
"That's sarcasm," he clarified.
The war of wards between MÖTLEY CRÜE and STEEL PANTHER began when Michael Starr and Stix Zadinia were asked in a 2019 interview which musician from the past they would like to bring back, to which Starr replied, "I'd bring back Vince Neil," and Zadinia chimed in, "He's not dead." Starr pressed on, saying: "I'd bring back Vince Neil from back in the day because that guy is dead."
After the news spread around the internet, Sixx took to Twitter to write: "The singer in Steal Panther [sic] can go f*ck himself … wanna-be band putting down Vince Neil?" One fan then pointed out that STEEL PANTHER sometimes plays MÖTLEY CRÜE songs during its concerts, to which Sixx responded, "That's why they are a—sholes. Backstabbers."
MÖTLEY CRÜE, DEF LEPPARD, POISON and JOAN JETT & THE BLACKHEARTS have previously announced dates for their 2021 "The Stadium Tour."
Dates and tickets for the tour can be found here.