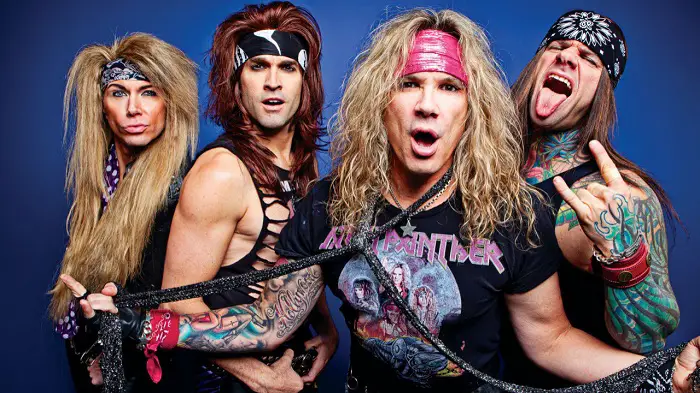 California rock and party legends STEEL PANTHER return with the third music video from their latest release, "Lower The Bar". The song is called "Wasted Too Much Time" and you can check out the video below. STONE SOUR members make a cameo appearance in the NSFW (not safe for work) video performing at a house party and SS singer Corey Taylor does his best Michael Starr impersonation. STEEL PANTHER will also be making an appearance in the next STONE SOUR video.
STEEL PANTHER drummer Stix Zadinia directed the latest video, which visualizes the message of the song and the pitfalls of staying in a relationship that isn't working.
Zadinia stated: "Having sex with living, human women and directing music videos are my two favorite things to do."
"Lower The Bar" was released on March 24 via Kobalt Music Recordings. The disc was co-produced with regular collaborator Jay Ruston, and includes eleven songs recorded at studios in north Hollywood and Sherman Oaks, with an additional two tracks on a Best Buy deluxe edition.
The two bands will be hitting the road together on a co-headline tour kicking off on September 24 in Omaha, Nebraska at the Sokol Auditorium. Tickets for all shows are currently on sale as well as VIP packages at select dates. The following tour dates are:
09/24 – Omaha, Neb. @ Sokol Auditorium
09/26 – Kansas City, Mo. @ The Midland
09/27 – St. Paul, Minn. @ The Myth
09/28 – Fargo, N.D. @ Fargo Civic Auditorium
09/30 – Janesville, Wis. @ JJO Sonic Boom
10/01 – Louisville, Ky. @ Louder Than Life
10/03 – Bethlehem, Pa. @ Sands Bethlehem Event Center
10/04 – Niagara Falls, N.Y. @ The Rapids Theatre
10/07 – Sioux Falls, S.D. @ The District (no Steel Panther) (feat. Man With A Mission)
10/08 – Wichita, Kan. @ The Cotillion (no Steel Panther) (feat. Man With A Mission)
10/10 – Clive, Iowa @ 7 Flags Event Center (feat. Man With A Mission)
10/11 – Tulsa, Okla. @ Brady Theater (feat. Man With A Mission)
10/13 – San Antonio, Texas @ Vibes Event Center
10/14 – Corpus Christi, Texas @ Concrete Street Pavilion
10/15 – The Woodlands, Texas @ Houston Open Air
10/18 – Anaheim, Calif. @ House Of Blues (no Steel Panther) (feat. Beartooth)
10/19 – Las Vegas, Nev. @ House Of Blues (no Steel Panther)
10/21 – Sacramento, Calif. @ Aftershock