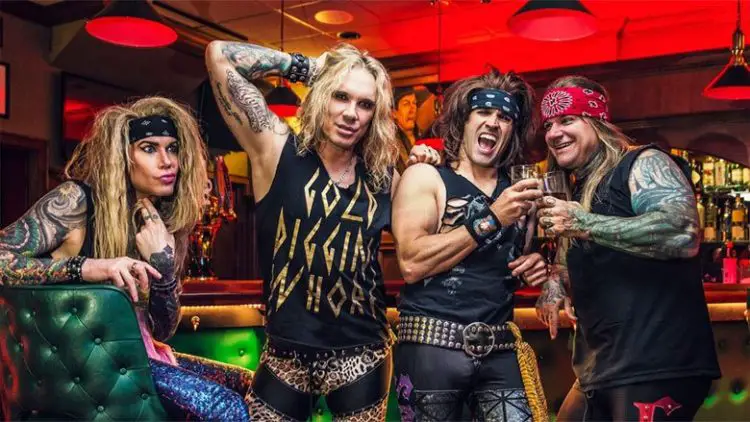 In a recent appearance on Appetite for Distortion, STEEL PANTHER drummer Stix Zadinia and bassist Lexxi Foxx recalled the time when they were opening for GUNS N' ROSES at The Forum in Los Angeles, CA, back in 2011.
"We opened for GN'R at The Forum, and we weren't allowed to soundcheck because Axl [Rose] was taking a nap – I'm not kidding," Stix said. "And I say that story not as, like, 'He's a dick.' I think it's a f*cking awesome story. It's, like, 'Guys, can you hold off of soundcheck?', and we're, like, 'Why?'.
He continued: "We just got the call three days before the show, I don't know if they didn't have an opener; it didn't matter, people were there to see GUNS N' ROSES, so we weren't going to add anything to the bill, it was just a cool opportunity for us. We're, like, 'F*ck, when you get a call to open for GUNS N' ROSES , you answer it.'
"So, we were at The Forum and they're, like, 'Guys, we got to hold off on soundcheck … Axl's taking a nap.' Apparently, he was within earshot of us and we're, like, 'What do you mean? Can he go on a bus?'. They're, like, 'Axl's napping.'
"So we started playing football on the floor. We ended up doing the show, and it was a tough show," Stix added. When you open for a band like GUNS N' ROSES, it's hard to open for them because everyone's there to see them. They wouldn't give a f*ck if Jesus was on stage, they'd just be, like, 'Where's GUNS N' ROSES, Jesus?'
STEEL PANTHER released their latest studio album, Heavy Metal Rules, on September 27.