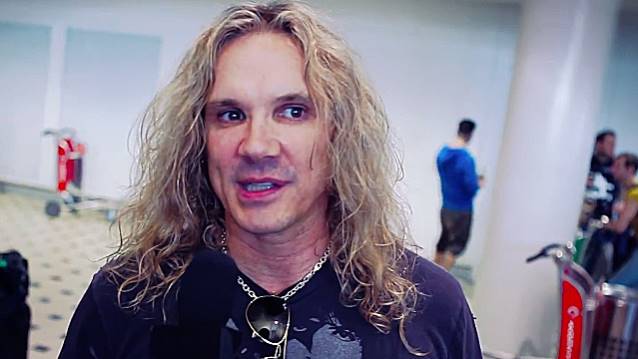 STEEL PANTHER singer Michael Starr addressed the feud with Nikki Sixx, saying that he hopes MÖTLEY CRÜE bassist is no longer mad at him.
The war of words between STEEL PANTHER and MÖTLEY CRÜE began when Starr and PANTHER drummer Stix Zadinia were asked in a 2019 interview which musician from the past they would like to bring back, to which Starr replied, "I'd bring back Vince Neil," and Zadinia chimed in, "He's not dead." Starr pressed on, saying: "I'd bring back Vince Neil from back in the day because that guy is dead."
After the news spread around the internet, Sixx took to Twitter to write: "The singer in Steal Panther [sic] can go f*ck himself … wanna-be band putting down Vince Neil?" One fan then pointed out that STEEL PANTHER sometimes plays MÖTLEY CRÜE songs during its concerts, to which Sixx responded, "That's why they are a—sholes. Backstabbers."
Now, in a new interview with Elliott Fullam of Little Punk People, Starr was asked if he had heard from Sixx after the last year's exchange of words.
"Hopefully that thing was just like a blip in the, you know, heavy metal news for now," Starr responded. "I think if we were to run into each other, I myself would totally be, 'What's up, dude?' That's the last thing I wanna do, is have a band that influenced my musical taste and direction be mad at me. But sometimes there's really nothing you can do about that kind of stuff; you just have to live with it."
"People were saying, 'What are you doing? Why are you guys arguing?' and I was, like, 'Yeah, you're right. Why are we arguing?' It's silly," he added. "There's no reason to do that, and it's over social media. And I know if we were on a festival or in the same room, I'm not gonna ignore the guy. I'm a fan. I'm gonna go up and say hi. And if he wants to not be my friend, then that's one thing, but I would totally walk up to him and say hi."