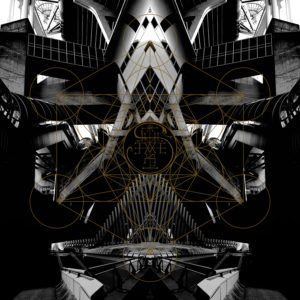 There are some bands that one just can't reach. Stellar Master Elite with "Hologram Temple" is one of them because they do the undoable. Their music is much far complex and dense and darker that it was possible a few years ago. "Hologram Temple" has so many sonic textures going over various moods that is impossible to address properly. But let's get started.
First of all, the ones that don't care, or don't give the right importance to vocals, are flat wrong about Stellar Master Elite with "Hologram Temple" not only because vocals are gutural only, but due to what they mean to the band and their music. Their vocals fit perfectly to their musical and emotional intent which is tyo provoque a state of paradox and complexity. The emotion Stellar Master Elite deal is much too complex to the laymen that badmouth Metal. Stellar Master Elite deal with the dialects I've been talking about for a while. In fact, it's simple. "Hologram Temple" is an album full of contradictions where the gloomy goes hand-to-hand with the lighter;  the strong and the easy, and much more.
Well, but besides the unusual there is also room for the good old Black Metal grip as in "Black Hole Dementia" with its insane cadence and stellar mood – no, it's not a pum. You know I never do it. Then comes "The Secret of Neverending Chaos" which mix both moods; the fast and black and the slow and also black – hey, what did you think I was going to say? "The Secret of Neverending Chaos" is a great atmospheric tune with the right dose of speed and power and wrath. All this in only one track. It's not easy to work with complex emotion bcause you can fall easily with cheesy. Thats a thing Stellar Master Elite are unable to do.
Stellar Master Elite "Hologram Temple" was released on May 03rd via Unholy Conspiracy Deathwork.
Track Listing:
Null
Freewheel Decrypted
Apocalypsis
Ad Infinitum
The Beast We Have Created
Agitation – Consent – War
Black Hole Dementia
The Secret of Neverending Chaos
Tetragon
Watch "Freewill Decrypted" official video here: