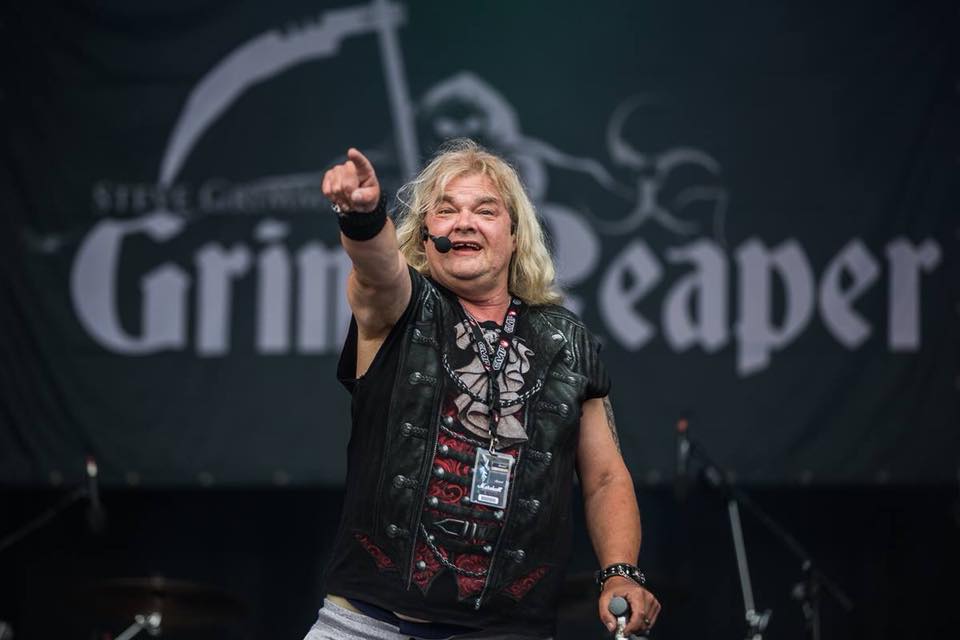 Steve Grimmett's wife says that the GRIM REAPER singer wasn't ill prior to his passing this past Monday (August 15).
Millie Grimmett shared the following message via social media: "Thank you for the thousands of messages of condolences since the passing of my beloved Steve. I'm gradually reading a few at a time but I will get round them all eventually.
"Steve had 2 passions, aeroplanes & being on stage, & it's his fans that made being on stage possible. So thank you from the bottom of my heart for buying tickets, queuing for hours to meet him after a gig (which he was honoured that you all did) & buying his albums. After every gig he would call me to tell me how amazing the crowd were & about the people he met.
"Over the weekend we were talking about our plans for the future. The tours he had coming up this year & next, the album he had half written, which had guest musicians on, the planes he was working on & looking forward to flying & the places we were looking forward to exploring together. Life was amazing. Steve was in the best place, mentally, that he's been since loosing his leg. My heart couldn't have loved him more.
"I found Steve forever asleep at home on Monday 15th August. He hadn't been ill so to say this was a shock is an understatement. His official cause of death has not yet been released by the coroners.
"My heart will forever be broken & my life now incomplete. I long for the day that we are together again. Steve sung a lot about hell but I know he is in heaven waiting for me and watching over his family.
"Please help me keep his music & memory alive by playing everything he ever wrote, sung, produced & did guests slots on. If you don't own it all, buy it, download it. Please keep his 40+ years on this mad industry going. There's plenty of YouTube footage too & we all loved the Beavis & Butthead videos but none more than Steve.
"Steve was known as the Metal Warrior, to me he was My Steve.
"Thank you again. Blessings & prayers. Millie."
In January, 2017 doctors in Ecuador removed Steve's right leg below the knee due an aggressive infection. He remained in hospital for several weeks before being discharged.