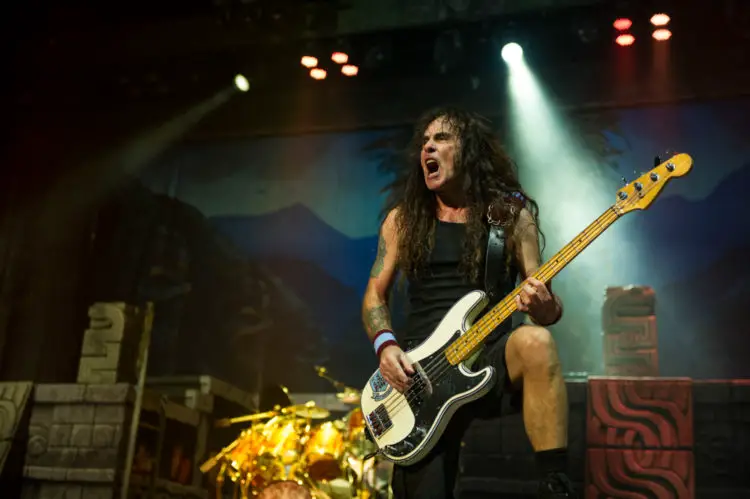 IRON MAIDEN bassist Steve Harris recalled the band's early days, explaining how he used to work as an architectural draughtsman in the East End of London, UK.
Steve studied architectural drawing at Leyton Sixth Form College. He said about his work as a draughtsman, in a recent appearance on Nights With Alice Cooper (as transcribed by Ultimate-Guitar.com): "Well, straight after school, really, I went straight into that job. I did my college stuff and on the weekends, two nights a week, and I made sure I got qualified to a certain degree because I thought, if the band don't work, then I'll have something to fall back on."
When asked if he was doing some kind of the layout plans, instead of actually designing buildings, Harris responded: "Yeah, you do some designs as well. At that time, obviously, when you're starting out, you just do drafts or whatever, it was someone else designing.
He continued: "But then you sort of graduate doing your own private jobs and stuff like that, you even get on to doing a couple of bigger projects. I made actually quite a bit of money by doing my own private jobs."
IRON MAIDEN is rumored to have completed work on a new studio album.
MAIDEN's last album, The Book Of Souls, was recorded in late 2014 in Paris, France with longtime producer Kevin "Caveman" Shirley.
Last month, Shirley offered a recap of 2019 on social media and alluded to a renewed MAIDEN collaboration, saying that he spent three months in Paris earlier this year "working very hard on an unnamed but not-very-secret project."
"I finished with a loud ringing in my ears," he added.
In May, Italian website, Maiden Concerts, speculated that IRON MAIDEN has already recorded their new album and is in the final stages of finalization.
Kevin Shirley has been signing all of the band's records since 2000 and will be the sixth album since the group became a sextet with the return of Bruce Dickinson and Adrian Smith twenty years ago in February 1999.
There is no further information on the musical direction of the work, on the topics, covered and other aspects. What is known is that all the musicians, their wives, and the producer are at the same time in Paris, where Guillaume Tell Studios is located, where MAIDEN recorded Brave New World (2000) and The Book of Souls.