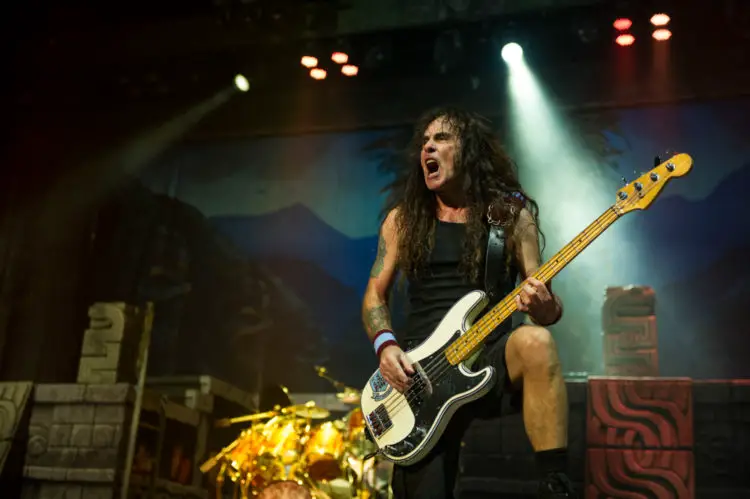 In a new interview with Ultimate-Guitar's Justin Becker, IRON MAIDEN bassist Steve Harris talked about the current state of the rock scene.
When asked if there are any bands that could become as big as MAIDEN, he responded.
"Wow, that's a tough one because I think there are some good bands out there. I think times have changed so much and who knows whether they have the chance to be a global band like MAIDEN is. It takes a long time for a band to become like MAIDEN has.
"Certainly, some bands have got the talent. I think NIGHTWISH are a great band and they're getting bigger all the time. They probably have the biggest chance of [reaching worldwide success on a level that Maiden has].
"There's a band that I like called LORD OF THE LOST, they did some gigs with MAIDEN. I think they're really good.
"I think my son [George]'s band, RAVEN AGE, is fantastic," Harris added. "The thing that separates them is that they've got such great songs. Every single song on both of their albums – they're all great songs, in my opinion. That just shows the depth.
"A lot of bands have good songs but maybe not a full album's worth. It's so difficult – there are so many good bands out there, but whether they can take it to that level is all based on circumstances and timing and all that stuff."
IRON MAIDEN is rumored to have completed work on a new studio album.
MAIDEN's last album, The Book Of Souls, was recorded in late 2014 in Paris, France with longtime producer Kevin "Caveman" Shirley.
Last month, Shirley offered a recap of 2019 on social media and alluded to a renewed MAIDEN collaboration, saying that he spent three months in Paris earlier this year "working very hard on an unnamed but not-very-secret project."
"I finished with a loud ringing in my ears," he added.
In May, Italian website, Maiden Concerts, speculated that IRON MAIDEN has already recorded their new album and is in the final stages of finalization.
Kevin Shirley has been signing all of the band's records since 2000 and will be the sixth album since the group became a sextet with the return of Bruce Dickinson and Adrian Smith twenty years ago in February 1999.
There is no further information on the musical direction of the work, on the topics, covered and other aspects. What is known is that all the musicians, their wives, and the producer are at the same time in Paris, where Guillaume Tell Studios is located, where MAIDEN recorded Brave New World (2000) and The Book of Souls.