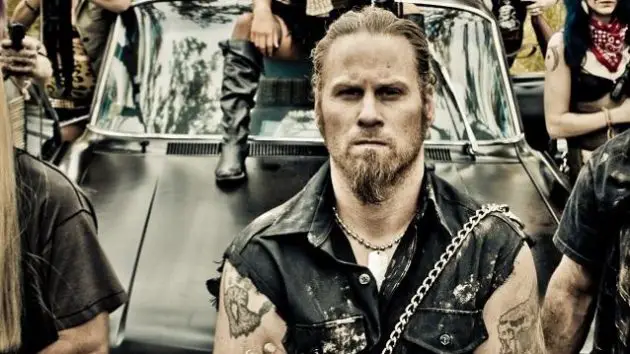 "Metal Magdalene With Jet" show on Metal Messiah Radio recently conducted an interview with frontman Steve Tucker of Floridian death metal veterans MORBID ANGEL. You can listen to the entire chat below. A few excerpts follow (as transcribed by Blabbermouth.net).
On his return this past spring to full-time live and studio activity with MORBID ANGEL after being out of the band for eleven years:
Steve: "Honestly, I don't have a clue what I was doing. Everything was sort of just a stone rolling down a hill. Once everything was in motion, it was in motion. I mean, I was excited, of course. To be honest, I live to play music, so getting to go back out on tour and getting to see people I haven't seen — some of the people I hadn't seen in fifteen years — it was excellent. It was a great thing. Regardless of what was going on in my brain, which was obviously irrelevant, because I don't remember, I know that once the tour started, it was fantastic."
On the approach he and founding guitarist/primary songwriter Trey Azagthoth took when writing the band's forthcoming "Kingdoms Disdained" studio album:
Steve: "The first thing Trey said to me was, 'I want to make killer music with killer people.' To go into any more detail than that, honestly, I don't even remember, but it was really just about, 'Hey, man, I want this to be MORBID ANGEL. I don't want this to be what it was being changed to be.' I told Trey my first question was always musical direction. Any time it involves playing music, that's got to be the first question. Everything Trey said to me and all the discussions we had made me very comfortable that Trey had every intention on doing the kind of album that MORBID ANGEL fans expect and that I, personally, feel. To do anything else, I don't feel it, and, to be honest with you, it's not going to be great by any means if I'm trying to do something that, to me, is fake. I think the thing is the same about Trey. Trey's a very focused and singular-focused person when it comes to music. I think he knew exactly what he wanted. He knew that I was the right guy to give him what he wanted out of this album."
On who contributed songwriting to "Kingdoms Disdained":
Steve: "Honestly, Trey, myself and Scotty [Fuller, drums] all contributed to the album. Trey contributed the most, seven or eight songs. I wrote a couple of songs, two or three songs. The songs that I wrote, I wrote together with Scotty. He contributed two as well. Scotty wrote a couple, had a couple of great ideas and stuff that we ended up putting together. It may have been changed slightly, but initially those are his ideas. Everyone that was there was definitely feeding the monster, so to speak."
On whether it was easy for him to jump back into the songwriting process for MORBID ANGEL:
Steve: "It's never easy. Nothing about MORBID ANGEL is easy. There's not anything involved in this band that is easy. This band doesn't really follow trends or anything like that and Trey is always trying to come up with something new and something different. As musicians, people get tired of doing the same things over and over, the point is always trying to expand and do something new and something fresh. For me, personally, I haven't written a song for MORBID ANGEL, besides lyrics, I hadn't written a song since [2000's 'Gateways [To Annihilation]'. We're literally talking fifteen years or something. Honestly, I didn't really think about it. I guess when I was writing, it was, 'Hey, there's room for more songs here. You got any ideas?' 'Yeah, sure, I've always got ideas.' That's really how it came about. To me, if I would have sat and thought about it, even ahead of the game, when this was all first happening when we were talking about writing a new album, the thought of thinking 'Okay, I have to write MORBID ANGEL songs.' At that time, I don't know if I'm literally in the place to write MORBID ANGEL songs. I hadn't been in MORBID ANGEL in a long time. By the time we were rehearsing the other songs and working on everything for the album, I was very much in the MORBID ANGEL mode. I very much gathered myself in a very familiar place in the assembly line."
On his lyrical inspirations for the songs on "Kingdoms Disdained":
Steve: "I have to say it was easy to write lyrics for the album. When we were recording this, we were recording this back in… December, January, this timeframe or something. I remember the news was quite busy during that time with all sorts of different things that really play into my line of thinking of where the world has been going for some time anyway. I don't really need to say that this album is a 'social' album that deals with social topics, but, there is a sense about the album that it is talking about current social events, but it's really not. It's actually really talking about these things, these social events that are occurring through time, repeatedly. It's really talking about, as always, MORBID always deals with things from a more spiritual nature than they do a physical nature. It takes a lot of the ideas of what's going on right now and looks at them from a god's perspective, or looks at them from a perspective of a complete, total outsider and alien, if you will, seeing the scenario. Rarely do I go into writing lyrics and give my opinion on something or give you my complete total view on something because honestly, my views change. I have to say that my views continuously, year after year, seem to evolve and become different things and something that I felt ten years ago about a situation, isn't necessarily true now. I may still have the same fundamental foundation of ideas on it, but, the actual rest of it has become much more, which fundamentally, may change my opinion. Writing the lyrics, they're definitely from always a third-person perspective. They're definitely always from the eyes of someone who is neutral. They are an observation more than anything."
"Kingdoms Disdained" will be released on December 1 via Silver Lining Music and JVC in Japan. The album was recorded at Mana Studios in St. Petersburg, Florida and produced by MORBID ANGEL with Erik Rutan (CANNIBAL CORPSE, HATE ETERNAL, SIX FEET UNDER, BELPHEGOR).
"Kingdoms Disdained" track listing:
01. Piles Of Little Arms
02. D.E.A.D.
03. Garden Of Disdain
04. The Righteous Voice
05. Architect And Iconoclast
06. Paradigms Warped
07. The Pillars Crumbling
08. For No Master
09. Declaring New Law (Secret Hell)
10. From The Hand Of Kings
11. The Fall Of Idols