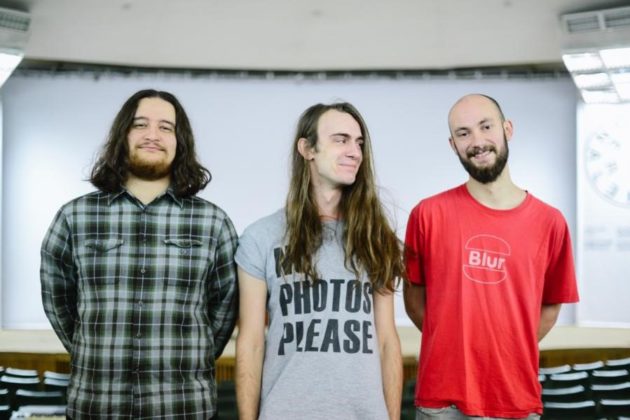 Heavy rock trio STONED JESUS have just signed a worldwide deal with the Austrian label Napalm Records. Founded back in 2009 in Kyiv, STONED JESUS have released three highly acclaimed records to date and toured almost all around the globe.
Says guitarist Igor Sydorenko: "We're delighted to announce that Stoned Jesus is signing with Napalm Records, one of the biggest and oldest rock/metal labels on the planet! By joining the likes of My Sleeping Karma, Greenleaf, Monster Magnet, Alter Bridge, Powerwolf, Moonspell and many other well-established bands in Napalm's eclectic roster, we're getting ready to start the new page in Stoned Jesus' testament!"

Napalm Records A&R Sebastian Muench comments:  "We are absolutely happy and thrilled to finally anounce the signing of STONED JESUS.  In the last couple years I was able to witness  STONED JESUS live many times at various Up In Smoke and Desertfest events. The Ukrainian band perfect blend of Stoner, Psych and Prog is absolutely brilliant and we expect nothing less than another masterpiece of a release in 2018. Stoned Jesus, welcome to the family and I hope you feel confortable among your band mates of Greenleaf, My Sleeping Karma, Monster Magnet or Monkey3."
With their powerful mix of Psych, Stoner, Progressive Rock and Doom, STONED JESUS manage to always create a finest fusion of the heavy but yet still melodic sounds. Emotional lyrics meet a heavy wall of tunes, especially live the band already left their huge stamp in the international stoner rock scene and beyond. And even if you haven't heard their albums yet, you probably know "I'm the Mountain" – one of the most popular songs of the genre.
While the band is currently working on their fourth full length record, set to be released with Napalm Records later this year, STONED JESUS will be heavily hitting the road again in 2018!
Make sure to catch them live on the following dates:
04.04.18 PL – Warsaw / Klub Proxima
05.04.18 PL – Gdynia / Klub Muzyczny Ucho
06.04.18 PL – Poznan / tba
07.04.18 PL – Wroclaw / Klub Firley
08.04.18 PL – Krakow / Zet Pe Te
10.05.18 RO – Cluj Napoca / Soundart Festival
11.05.18 RO – Bucharest / Soundart Festival
12.05.18 RO – Timisoara / Soundart Festival
13.05.18 BG – Sofia / Mixtape 5
15.05.18 BA – Sarajevo / Underground Club
16.05.18 HR – Zagreb / Vintage Industrial Bar
17.05.18 SRB – Belgrade / Bozidarac
18.05.18 HUN – Pecs / Pecsi Est
19.05.18 RO – Satu Mare / Gravel Room
20.05.18 RO – Lasi / Rock N Iasi Open Air
14.07.18 ES – Estrella Galicia / Resurrection Fest
27.07.18 DE – Neuensee / Rock Im Wald
02.09.18 GR – Thessaloniki / Street Mode Festival
29.09.18 UK – Sheffield / HRH Doom vs Stoner Festival