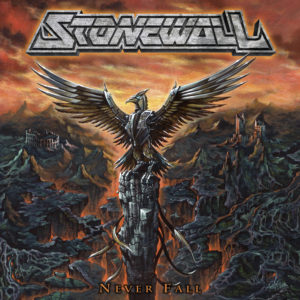 Some bands really deserve the name they have. Or, in other words, they actually pass to their songs the meaning of their name. This is Stonewall, a band with solid and impregnable wall of pure Heavy Metal. "Never Fall" is an old school piece, but sounds as fresh as the morning sun – hum, that was poetic, wasn't it? But Stonewall have indeed some poetry in their songs as in "Don't Cross the Line" with a catchy singalong chorus. In "Don't Cross the Line" Stonewall reserve the right to give some piece of advice to listeners. Cool thing!
Lyrics are a highlight in "Never Fall" due to their positive stand. Stonewall are a band that male a stand as in "Sound of Violence" which chorus is also singalong, but not that catchy. Of course, this is no poetry contest or speech analysis, but it's great to have bands that do have something to say. This world is too harsh. There is something of Dio writing in Stonewall. Songs are catchy without being cheesy. One can't say Stonewall are an easy band. "Don't Cross the Line" is an album with great songs with singalong choruses. No problem with that at all. I guess it is desired. Again the diversity of Metal. A fan can go from extremes in a second with bands. That's one of the million things I love about Metal music.
But don't get me wrong. There is much more about Stonewall than the choruses and lyrics. Instrumentals are neat as well. They are the ones which build the stonewall where the band's music is firmly stand. "Lethal Power" and "Tears of the Earth" is a very good example. Both with a foot in power metal, but without crossing the line.
Stonewall "Never Fall" will be released on September 28th via No Remorse Records.
Track Listing:
Lethal Power
Cross the Line
Tears of the Earth
Walk on Fire
Let It Rise
Taken by Shadows
From the Stars
Live for the Fight
Sound of Violence
Never Fall
 

Tear Down the Walls
Watch "Eyes of Fire" video here: