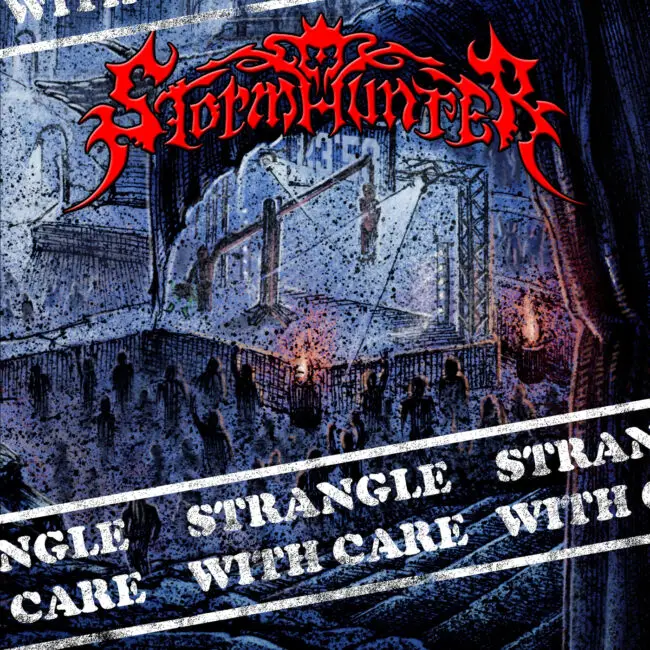 Right to the point. What attracted me to Stormhunter "Strangle with Care" was the unique combination of Power Metal instrumentals with the quasi Punk vocals in duet. I'll admit it's a combination that I've rarely heard. I can only remember of some Melodic Hardcore bands as Social Distortion. The vocals here do address to them a lot though the instrumentals are way out their league. Unique, but very unique combination I must say. I like that.
"Strangle with Care" is an EP with five tracks which would be monolithic if they had the same vocals all the time. But that's not what happens here. Vocals are always way from the redondant and standard. To avoid even more the more of the same feeling, last but not least track "Balles Masquées" is in French. It may sound strange but the sonancy of the French language fits perfectly to what Stormhunter proposed. At first, my dear fan may strange album opener "Mind Odissey" and its guitar phrases that may sound a little out. Or maybe they sound too high to confront the Metal mass that comes from the drums and the bass. Helloween is an obvious influence here until the vocal duet come. Then it's a completely different story. "Strangle with Care" acquires very different angule because the Power Metal instrumentals represent all the excesses Metal music stand for. On the other side of the coin, the Hardcore vocal duet may even sound a bit wrong because this kind of music is everytinh Hardcore stands against. Perhaps that's all the beauty of the album. This almost impossible union of both opposed influences. Following track "Headbanger's Ball" showcases the kind of emotion that only metalheads will understand when it comes to talk about Metal music. We, metalheads, are very proud ofour music and we want to say it all the time. "Headbanger's Ball" expresses all these in a very touching way. The track avoids also to be cheese and gluey in the bad way. "Paralyzed" showcases a band that really knows how to pick the best guitar phrases and isn't afraid of using them. Again vocals give the now expected emotion. Impossible not to sing along.
Easily an album to be at the best of the year. And to think of it I looked at the album with some curiosity but not that excited. It looked like as some more of the same album. Great that I was completely wrong. Hard to know that the band exists since 1998 and I haven't heard anything of them until now…
Stormhunter "Strangle with Care" will be released on August 26th via G.U.C. / Metal-Store24.
Track Listing:
Mind Odyssey
Headbanger's Ball
Paralyzed
Remnants of Society
Balles Masquées
Watch "Strangle with Care" teaser here: