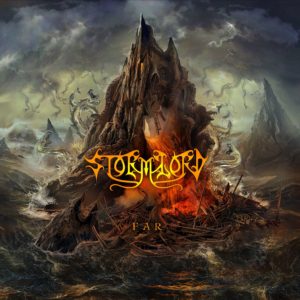 Extreme Metal is always a surprise. There is no way of denying it. There is no way of denying the extreme quality of the new bands that are coming, though many say that there are no good bands anymore, they are a copycat of the old, bla, bla, bla. I strongly disagree. I see in a everyday basis that new bands are strugling to survive and to fight all those who have that crystalized thinking. I'll say it again and again. Nothing comes out of the blue. Everything is a process that takes time. Breakthrough bands and albums doesn't appear just because. New bands have to learn with the old ones. Sometimes they have to emulate them in order to find their own sonance. It is a process that this world of merchandising can't understand, or refuse to understand. Some processes can't be antecipated. Simple like that. Just can't.
My eyes shine bright when I receive a band as Stormlord whith their exciting and relentless Symphonic Black Metal. But you might ask, what is there that is so different with Stormlord? The passion and fervor for the music, the shining polished instrumentals with sharp and varied vocals, the excitement that the band passes us while listening to "Far." Bottom line, "Far" is an album that fulfills a lot of requirements that Metallers do have. As everybody knows, we are the most demanding and difficult to please crowd in the world. "Far" is heavy, aggressive, mind blowning, exciting and many other adjectives that I can't recall right now with the bonus of having lots of instrumental and cadence variations to highlight their effort. "Far" is an album that calls the eye, that surprises and most of it, that pleases.
Stormlord deal with dextery all the commomn grounds to Symphonic Black Metal adding much some more which is the excitement in the music. Stormlord show all the fervor to Metal that the fan can feel through the music. It's not easy to find a band like this in a subgenre that tries to hide out fervor and passion and excitement. Lyricwise, Stormlord take hold of a rich tradition in Metal that is using historical themes to write their songs. It's always great to build a strong lyrical basis though many don't care to lyrics. But nevermind, "Far" is great anyway!
Stormlord "Far" was released on May 24th via Scarlet Records.
Track Listing:
Leviathan
Mediterranea
Far
Sherden
Crimson
Cimmeria
Invictus
Romulus
Vacuna
Levante
Watch "Far" lyric video here: