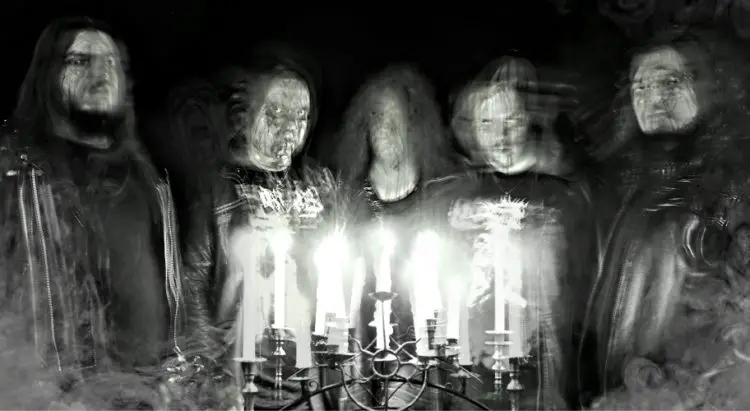 Swiss Blackened Death metallers STORTREGN released their new album "Emptiness Fills the Void" on May 25th, via Non Serviam Records. Now the band has unleashed a new video for the song "Circular Infinity", which can be seen below.
Comments the band: "The video of 'Circular Infinity', the second track of Emptiness Fills The Void, is now unveiled! It captures the true essence of the song, as it's the most straight-forward, uncompromising and extreme piece off the album. Now, raise your cups and celebrate the infinite void!"
"Emptiness Fills the Void" tracklisting:
1. Through the Dark Gates
2. Circular Infinity
3. The Forge
4. Nonexistence
5. The Chasm of Eternity
6. Lawless
7. The Eclipsist
8. Shattered Universe
9. Children of the Obsidian Light
STORTREGN is a blackened death metal band, formed in Switzerland in 2005. Initially influenced by the Nordic black metal scene, they have expanded their vision and sound into a more contemporary era. They are greatly appreciated for their music and even more so for their live shows. With a relentless energy, they deliver a mix of charging riffs, blast beats and brutality that leaves the audience with a lasting impression and begging for more. After a deluge of gigs, including Wacken, Metal Days, and 4 international tours, STORTREGN has become inevitable in the Blackened Death metal scene. Their fourth album, "Emptiness Fills the Void" came out on May 25th, 2018 via Non Serviam Records.
Moreover, with the recent signing with ALPHA OMEGA Management Agency, STORTREGN are now planning to tour the world intensely. The band recently finished their European tour with IMMOLATION & FULL OF HELL (March/April 2018), and there is far more to come. Expressing this album through live performances with violence, blast beats, and killer riffs is what the band is about. At each of their thunderous live appearances, STORTREGN ravage the place until the smallest shred of human skin is marked. The five members, tight as a hungry wolf-pack, energetically release their inner storm to transform every show into a dark and metallic mass of death, with precision, quality and professionalism.