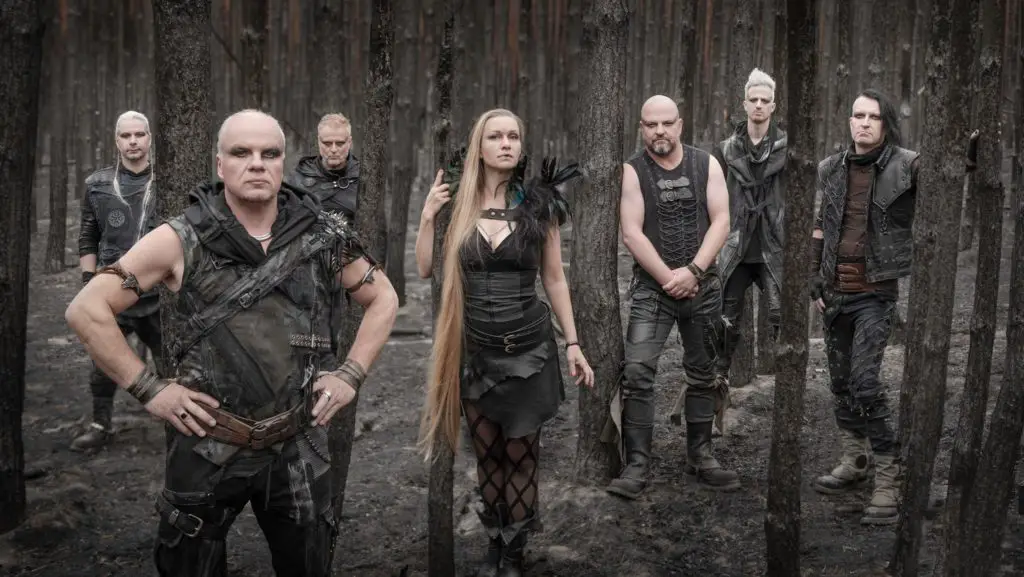 When two greats of the German folk rock and medieval scene get together, there's nothing but magic taking place – not even a prevailing pandemic can change that! SUBWAY TO SALLY have dropped their captivating performance of the Saltatio Mortis hit "IX", cut from the band's upcoming, unique Blu-Ray/DVD/CD highlight, Eisheilige Nacht – Back to Lindenpark, which is due out on June 18, 2021 via Napalm Records.
The original song can be found on the Saltatio Mortis full-length Das Schwarze Einmaleins (2013) and is now captured for eternity, presented by both bands as an exclusive version on Eisheilige Nacht – Back to Lindenpark.
SUBWAY TO SALLY comments:
"We covered 'IX' and put it into our very own SUBWAY TO SALLY version. Our long-time companions from Saltatio Mortis wanted us to cover the song for a bonus CD that's part of their album Zirkus Zeitgeist (2015). Within a short time, the track became very popular amongst our fans and even pushed a few of our classics out of our streaming top 5 temporarily. After a joint tour playing the track together with Saltatio Mortis, we enjoyed it so much that we decided to keep it in our regular live set for some time. Or in other words: a Saltatio Mortis cover version became part of the SUBWAY TO SALLY set! I don't think there can be a better alliance within our scene and so we were really looking forward to performing the song again with our friends at Eisheilige Nacht – Back to Lindenpark."
Eisheilige Nacht – Back To Lindenpark will be available as a deluxe bundle (incl. deluxe fan gym bag, mediabook, pendant, lanyard, pass – limited to 300 copies), LP Gatefold Black, BD/DVD/2-CD mediabook and digital album formats, and serves as harbinger for all those great live performances that are about to come! You can preorder here.
SUBWAY TO SALLY on Eisheilige Nacht – Back to Lindenpark:
"After 11 years of our EISHEILIGE NACHT-tradition, we definitely did not want that 2020 will be seen as a red "X" in the history of our festival series. So we thought about how we could provide our fans with the EISHEILIGE NACHT feeling at their homes, when we weren't allowed to tour ourselves. An online concert wasn't enough for us: EISHEILIGE NACHT is not only about meeting friends, but also being a highlight of the year – with several befriended bands performing live on stage. We wanted to implement all of this in one experience. We wanted to record this very special event where the EISHEILIGE NACHT originally began. Instead of playing a concert in an empty hall, we used the size of the hall, lined up in a circle and placed our guest musicians into our midst. This created new insights that have never been seen before in any SUBWAY TO SALLY concert film! We are very pleased that we can now, as requested by countless fans, record this event for eternity as a special concert film!"