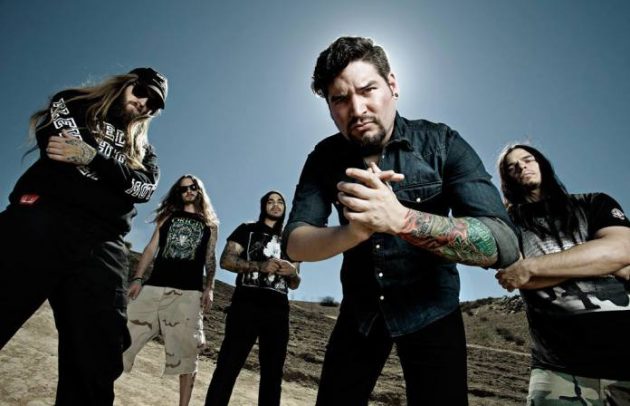 SUICIDE SILENCE guitarist Chris Garza discussed the band's controversial latest self-titled album, telling Heavy New York on what the group got from the whole effort: "It's funny, we got paid in everything but financial currency. We got paid in so much more. We didn't get paid in petty bullshit like record sales and money.
"We got paid in so much more… things that I can't say here yet, but things have happened that are huge for our band that [wouldn't have] happened [without] that record. 'Oh, we heard this. Do you want to be in this movie?'
"It's crazy shit like that. It wouldn't have happened if we didn't do that. We got paid in everything but money, so now it's like, we're super-stoked. I'm so fucking thankful, dude."
Asked if the record has opened up even more doors for the band to experiment, Chris replied: "First and foremost, we were in a room with [producer] Ross Robinson. I mean, just that alone is a mindfuck. [Laughs] It's still hard being around him because I truly with my heart and my soul, I love him because he's done so much for me.
"We had the preconceived idea that we were going to try everything and Ross was going to help us explore everything. But the thing about that is, we experimented with everything possible with every song, every part, every drum part.
"The logo, the video, the way we toured, we experimented so much, it was humanly impossible to focus on anything. To get a sound, like a heavy tone, it was impossible because we were experimenting so much, but, we were willing and not afraid to do that."
Asked if the band had planned to incorporate clean vocals on the record beforehand, the guitarist replied: "Absolutely. I mean, every record we kind of like, we want to not evolve, but take risks and chances. After 'The Black Crown,' we were going to take some fucking… basically, what we did on the record, after [2011's] 'The Black Crown,' but after what happened with [deceased vocalist] Mitch [Lucker], that put things to a halt.
"Things were already going to happen, but with [2014's] 'You Can't Stop Me', there's no room to do anything. We barely were able to just be a band again, so to go on with Eddie [Hermida, vocals] and without Mitch and go in general and experiment, it was impossible. Let's see if we can be a band first.
"Once we accomplished that, it was like, 'Okay. Now let's see what we can really do.' Basically, it was like, 'What if we die? What would be our last record? What would we do? What do we want to try?' It's about learning. Bands are afraid to fucking fail because that's how you learn.
"But, I'm very thankful and blessed to be in a real band. We're all in this and we love music and we love our fans and we want to give them something fresh. We know they're in it for the long haul, as we are.
"Throughout my career and demos and all that stuff, I learned that in order to get a certain sound for a record, sometimes it takes a couple of records to get to the record that you're trying to do. I had that in mind.
"I don't care, I didn't care about record sales or all that bullshit that everyone is like obsessing about. It's, like, 'What's this going to do for us in five years from now? 10 years from now? 30 years from now?' What's our eighth record going to sound like if we try this on our fifth?'"
SUICIDE SILENCE's self-titled album sold only 4,650 copies in its first week of release in the U.S. – 69% drop from the first week sales of 2014's 'You Can't Stop Me', which sold 15,000. Album also debuted at #98 on the charts in Germany, a steep decline from their #24 debut on the charts for their previous album, 2014's 'You Can't Stop Me'. Both albums featured current vocalist Eddie Hermida.