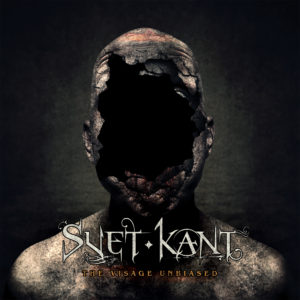 "To boldly go where no man has gone before" that seems to be the motto for many Metal acts these days. From where I'm standing the way the guys are doing it, it'll get more and more hard to find a place where no man has ever been because bands are looking for the most resourceful ways to find places where no one has been. The truth is that Metal is the most challenging and brekthrough music nowadays. Am I disturbed with that as many would think of a metalhead, the one who can't stand change? No, not really. As a matter of fact, I'm pretty confortable with it. In fact, I'm really proud of the guys. They are kicking it.
This is absolutely the truth to Svet Kant with "The Visage Unbiased" where they try the most ways as it is possible without any damage to the rude and crude of Metal. Svet Kant go from the colored Art Rock to the darkest Death Metal in a finger snap as easy as I am typing right now. There are frantic tracks as "A Gaze Indifferent to Your Suffering" whose guitars seem to be playing a kind of sick free jazz due to the full of breaks riffings. "The Visage Unbiased" is an album that joyfully play around with many musical concepts just because it's impossible to fit Svet Kant in any of them. "A Gaze Indifferent to Your Suffering" has so many plot twists that it is impossible to address all of them.
As you all know, I don't like to get on band's or album's names, "The Visage Unbiased" means all. And I have to mention that the track that represents "The Visage Unbiased" the most is "Circular" with its Art Rock atmosphere but flavored by a Metalesque ballad and some touches of a jazz pop that was kind of common in the beginning of the 1980s. Spetacular weird in a way that only a band as Svet Kant could ever figure. And when you are almost done with the surprises, there comes "Faceless Beings" with a mix of samba percussion with Death Metal. And the best of it; it doesn't get boring as most technical or experimental bands.
Svet Kant "The Visage Unbiased" will be released on May 31st via WormHoleDeath.
Track Listing:
Delirium (Introitus)
The Throne
Labirinths (of Scorn)
A Gaze Indifferent to Your Suffering
Circular
Faceless Being
An Overlapping of Feelings, Pt. 1, 2, 3
The Cogs of Envy
Personae Contra Natura
Sea of Planets
Watch "A Gaze Indifferent to Your Suffering" official video here: