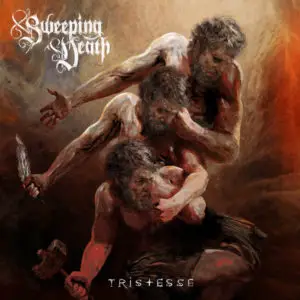 Wow! A Metal band writing a concept album about Arthur Schopenhauer's "The World As Will And Idea." As I said zillion times here Metal bands are really something else in the world of music. It's the weird combination of a giant neanderthal to whom one can talk about philosophy, science, science fiction, the future, the ideas for the future, among other themes. I praise this theme diversity Metal music embraces with all my heart and, from where I'm standing, it's one of the zillion things that make it stronger.
I confess I really don't know Arthur Schopenhauer really well. His only book I read is "How to Win Every Argument: The Subtle Art of Controversy," which I think is perfect for the times we're living in. Of course, if debating with someone reasonable because if this one is a flat Earth supporter, well, there's no point in debating.
Ok, then, let's go for the album. "Tristesse" is an album tittle that deceives the fan because the three tracks in it aren't at all senses sad. Moreover, there is no sadness intent in them all. But the music is complex, intricate, not only musicwise, it's instrumentally hard to explain and to label. It reminds a little the epic sense grip of Iced Earth's "The Dark Saga." There are layers of guitar riffings and guitar phrasings embelished with acoustic guitars and other instruments in a way to remind Queensrÿch grandness. More importantly, Elias Witzigmann's versatile voice make the fan think that maybe Soundgarden's Chris Cornell is leading the throat services or it's a more raspier version of Geoff Tate. First track "The World As Will" drumming is simply fantastic due to the massively counter tempos drummer Tobias Kasper does here. Fair to say that the impression the fan gets is that he doesn't hit one at the tempo for the massive counter tempo beating. This and the violins saved the day. To Annihilator's fans last track "Sublime Me" will make them remind "Alice in Hell" era due to the combination of slow and acoustic parts with the harsher ones in a twisted way.
"Tristesse" beats me because, in general, it lacks me the words to explain accurately what happens in it. Sweeping Death are a band that's been amzing me since I reviewed their 2019's "In Lucid" album. But this album is much more complex, it's hard to put in words what the fan will listen here. I guess what I told above may serve it right, but I have the feeling the feeling that is enough.
P.S.: I said neanderthals in the intro of this review and the cover art of "Tristesse" delivers us three cavemen who apparently aren't neanderthals but point made.
Sweeping Death "Tristesse" will be released on September 09th.
Track Listing:
The World As Will
Alter the Rift
Sublime Me
Watch