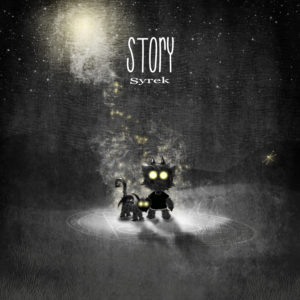 "Story" is one hell of a ridiculously guitar shredding album. The kind of album that myd ear fan will jawdrop with the insane and flamboyant guitar playing. Yeah, this is a guitar shredding album. Be advised. Some may say it is Neoclassical, some may say it is Symphonic. Well, I say the album fits both traits easily. I also see some traits of Progressive Metal in it. One thing I can say for sure is that it is a concept album. "Story" is totally instrumental except for some moments as the intro "Magic Lantern (Into the Woods)" where someone tells a story full of children voices and other white noise. Throughout the album there are other narratives. By the way, the songs' tittles are telling a story if my dear fan pays close attention in the details. The artist responsable for this monument to guitar shredders is guitarist Terry Syrek who's a gradute from the prestigious Berklee College of Music in 1992. Since then Terry has been kept busy as a guitarist, vocalist, songwriter, session musician, producer, instructor, and author with more than 30 years of guitar teaching experience under his belt.
I do have some mixed emotions about albums like "Story" because at first I get really surprised and amazed. This kind of guitar playing still gets my attention, if you know what I'm saying. I do pay attention to everything the shredder has to say and show. On the other side of the coin, by the fourth or fifth track depending on how the music is conducted I get bored and my eractions are to pull it out from the player. But somehow I do resist and insist track by track because I get so envolved with the shredding that even being bored I do have to pay close attention to the music. Well, I think many fans think as I do. In this album Terry Syrek knits track by track making them one own with his playing and shredding. The textures Terry Syrek made are too beautiful to be left behind and ignored. A track as "The End?" makes it impossible not to pay attention and think about all the amazing features there are in it. That's the intrinsic beauty of instrumental albums. The artists have to tell a story with no singing words. Only the instrumentals. A very hard think to do especially when the album is a concept album that must have all the tracks linked somehow. "Story" does it with flying colors.
Syrek "Story" was independently released on December 21st, 2021.
Track Listing:
Magic Lantern (Into The Woods)
I Think It's a Monster
Balloon Ride over a Jigsaw Map
I Got a Lightning Bug
What the Owl Said
Starcrowned
The Perilous Flight From Castle Abathria
Stange Machine
Dandelion Sword
Gnomus Maleficus (Tea with the Angry Gnome)
Promenade Into the End
The End?
Home (Out of the Woods)
Watch "Balloon Ride over a Jigsaw Map" official video here: