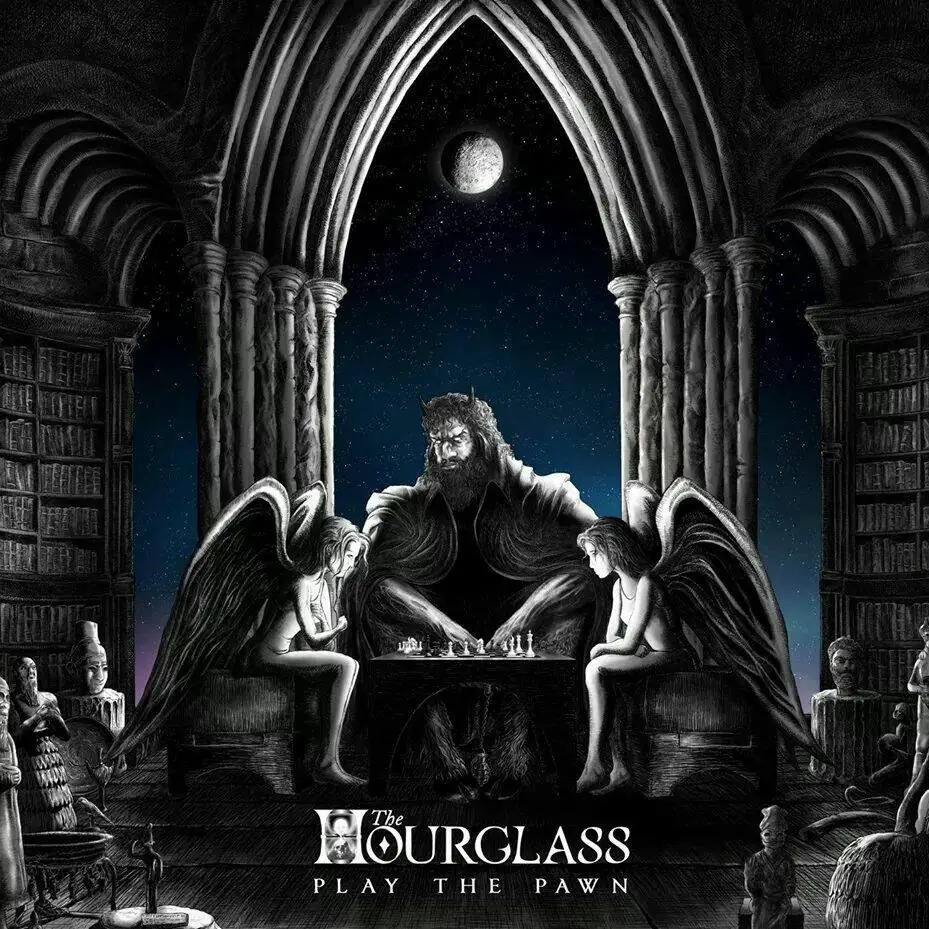 Most of the time I am very excited when bands share music with me that I haven't heard yet. That is one of the "perks" of being administrator of one of the biggest and best heavy metal facebook pages. For those of you who don't know, Reeder and I are both administrators on KISS MY HEAVY METAL ASS on Facebook. We received the following message a few days ago, and tho it is a badass tune, it came with bitter news.
Rawad A. Massih, View Profile, contacted me with the following. "Dear fellows, I'm Founder and guitarist of the Syrian heavy band THE HOURGLASS. We have released our final song featuring Zak Stevens of SAVATAGE and TSO and Marcela Bovio of STREAM OF PASSION on vocals as guests with a very nice ancient mood lyric video. This was supposed to be a single on our new album to prepare for a crowd funding campaign for the whole album. Unfortunately due to the war and all the stuff i had to declare THE HOURGLASS disbanded and neglect the idea of crowd funding or continuing with the project, but at least the song with Zak and Marcela is released now . I hope you fellows take a look at it and share it on ur fb page if possible. We really want this final song to receive the awareness that it deserves. I'll be grateful. This is the link of the song.
This is the statement I published regarding the end of the band.
"Soon I will be releasing the final song of THE HOURGLASS. THE HOURGLASS is officially disbanded.
A Glorious Suicide (Phoenician Queen of Carthage), again with Zak Stevens Circle II Circle ( Savatage ,Circle II Circle , Trans-Siberian Orchestra ) and Marcela Bovio ( Stream of Passion , The Gentle Storm) will be the last single the band will release.
Despite all the disappointments and effort, time and money I personally and the members put on the band, the 13 years of THE HOURGLASS are still in my eyes a great journey. We reached where a lot of other Middle East bands still seek to reach. THE HOURGLASS will be always the first Syrian heavy metal band to have achieved 3 albums, singles with international artists and opened for international bands. I hope that the metalheads of the Middle East will remember THE HOURGLASS as one Yamanof the early bands to release albums and originals.
I want to thank all of the people and players who have contributed to THE HOURGLASS along the years, Omar Harb, Munsef Turkmani, Bahij Ghata, Abdulatif Almalouhi, Rafi Faks, Sharbel Kanoun, Yamen i, Sameh Haddad, Zaher Ajlani, Salim Zahra, Nareg Abajian, Yeghia Daghelian, Saad Fanari, Khaled Barakeh, Shant Hagopian (forgive me if I forgot anyone), and I want to thank my band mates Aram Kalousdian of Nu.Clear.Dawn and Bassem Deaibess of Blaakyum for putting all of their talents and efforts in the band.
I guess it is sad to think about all the projects and dreams I was preparing for ,THE HOURGLASS but hey…Zak Stevens and Jon Oliva sang my lyrics and my music!! It couldn't be more rewarding!! The end of  THE HOURGLASS is just a very tiny part of the disastrous consequences of the war that is happening in our homeland Syria, which hopefully will be over in the coming few years.
The project of Gods and Warriors of the Fertile Crescent will never be over; I will revive it in other forms in my solo project. I will be releasing songs and albums in my own name from this time on, and they will be of many genres of music, Orchestrated, Electronic, Ambient, Oriental, Rock and Metal. I guess it is the time for a new beginning.
Regarding A Glorious Suicide, I recorded this song 8 months ago and it was supposed to be a single for the new album. It is about Elissa (aka Dido) the Canaanite Phoenician queen who ran away from Tyre and established Carthage, the city that will later invade Rome and establish an empire. It has a completely different style of the previous The Hourglass songs, with Zak and Marcella the song is really amazing. It will be released at the end of August. I want to thank Adel Saflou of Ambrotype for contributing to the song writing and Tarek Shehabe of Wasaya for doing the Synth solos.
I will keep this page to share the old and new songs of the band from time to time to keep the legacy of  THE HOURGLASS alive.
Farewell fellows
Rawad Abdel Massih"
Many thanks and best regards,
Rawad
Needless to say, I hate to see people have to give up. I didn't get very much sleep that night. I had a few too many beers and actually cried to my girlfriend about it, to be honest. I got back in contact with Rawad and asked why they had to disband because I couldn't understand why they just gave up on such a killer project. His response was as follows. "Many thanks for your feelings brother. Sometimes circumstances are stronger than music. I really appreciate that, but it's much more than one can handle. Each of the members now settled in a different country, and financially I can't handle this thing anymore, but I'm going to continue with my solo project and I will keep you posted. It's not 100% metal, but has the metal spirit. It will be orchestrated music with guitar solos.
Rawad told me that the other band members had to relocate to different parts of the world due to the civil unrest in Syria. I asked him what it was like living in a war torn country. He replied "I moved for 4 years and I am back now. It depends on the area, man. You know, like any war, some areas are caught in the line of fire or some strategic area several powers fight for. In many areas life is somewhat normal. You can go to the beach or to a restaurant. You can go to work or take a walk with your dog. You know, stuff like that. I'm lucky that I live in one of these areas."
Though I hate to hear that shit went down like it did for this band that is now officially disbanded, I completely understand. I wish it could be different and be able to get my hands on a complete album or EP from these fellows, but it just can't happen right now. At least we have the exit track that is aptly named "A Glorious Suicide".
This band deserves to be heard and enjoyed by all within earshot. It gives me chills when I listen to it.