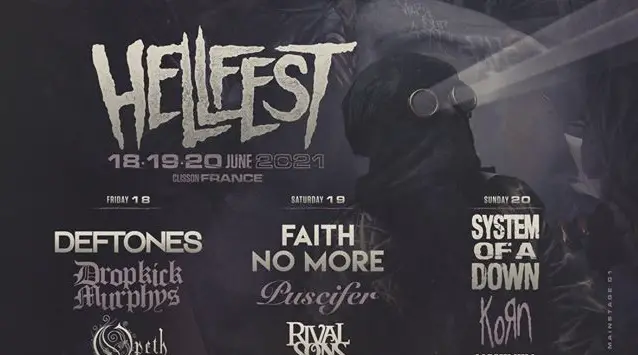 DEFTONES, FAITH NO MORE and SYSTEM OF A DOWN are confirmed as headliners for next year's Hellfest Festival.
Festival will take place on 18 – 20 June 2020 in Clisson, France.
Festival organizers said in a statement: "Hellbangers, a little ahead of usual, here's the lineup of the 2021 edition!
"90 % of the groups have reconfirmed their presence for next year, and as you know, they are particularly impatient to find you in Clissonese lands!
"Unfortunately, 13 bands scheduled for the 2020 edition could not confirm their presence for 2021: INCUBUS, MASTODON, INFECTIOUS GROOVE, THY ART IS MURDER, ALTER BRIDGE, BABY METAL, JOYOUS WOLF, UNLEASHED, MESHUGGAH, THE BLACK DAHLIA MURDER, PERIPHERY, BODY COUNT and AUGUST BURNS RED.
Fortunately, we were able to confirm 3 new ones: PUSCIFER (Hellcome back Maynard James Keenan), Dropkick Murphys (Clisson / Boston pairing is on track! ) and Northlane (for high-level Australian Metalcore! ).).
We are still working on the 10 groups to announce to close this poster! Trust us, we are already on good leads!