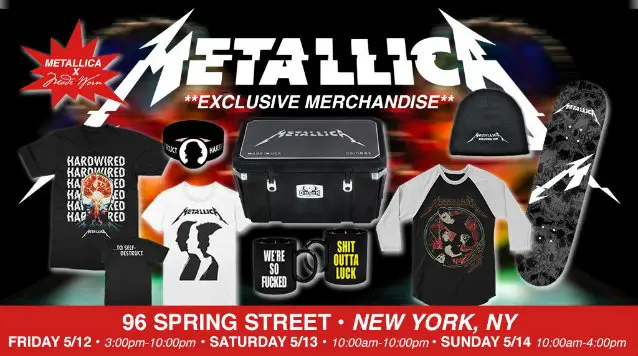 METALLICA is promoting the North American leg of their expansive new WorldWired tour with a series of pop-up stores. The grand opening is being held this weekend (May 12-14) in New York City at 96 Spring Street.
A five-minute video overview of the METALLICA pop-up store in New York can be seen below (courtesy of Piercing Metal).
Current dates & times for the New York store:
May 12 – 3 p.m. to 10 p.m.
May 13 – 10 p.m.
May 14 – 10 a.m. to 4 p.m.
Along with the New York location, other cities and dates for the pop-ups have been listed — store's hours are still TBD.
St. Louis, Missouri: June 2 – June 4
Houston, Texas: June 9 – June 11
Chicago, Illinois: June 16 – June 18
Atlanta, Georgia: July 7 – July 9
Toronto, Ontario: July 14 – July 16
Los Angeles, California: July 27 – July 29
San Diego, California: August 4 – August 6
San Francisco, California: August 11 – August 13