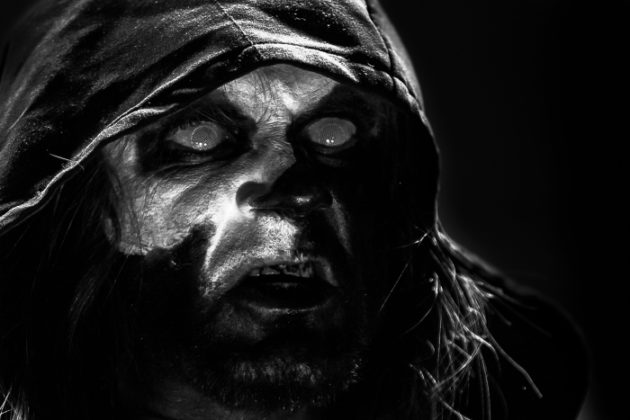 If you remember, earlier this year rapper Talib Kweli cancelled a show at The Riot Room in Kansas City, MO as a result of TAAKE having been booked for a show in the same venue at a later date. At the time  TAAKE—in particular the band's mastermind Hoest—found himself in the sights of not only Kweli on that trek, but also various Antifa groups, who took issue with Hoest's past. TAAKE ultimately were forced to cancel their U.S. tour, releasing a statement in which they wrote that they are "not now, [have] never been, and never will be a N*zi band."
Now, Talib Kweli cancelled his planned show at the Rockerfeller Music Hall in Oslo, Norway upon learning that TAAKE are booked to perform there on April 19th as part of the 'Inferno Metal Festival'.
Kweli tweeted yesterday: "Seems like [Rockefeller] values N*zi bands over me so yea it's looking like it's cancelled. What you can do is ask the ppl at Rockerfeller Oslo why they would rather invite N*zis than black artists into their venue. It's a bad look for the city." He added in a subsequent tweet, "Rockerfeller is inviting N*zis in their home. If you invite N*zis in your home you support N*zis. I don't go to places that support N*azis and f*ck you for demanding I do."
Pitchfork reached out to Hoest on the matter and received the following statement:
"He seriously thinks we're N*zis? I have done nothing but deny this for the past eleven years, but this is what happens when Antifa run one of their slanderous campaign—there is always some jerk who takes them seriously. Personally I think it was an appalling thing to do both to his fans, and the venue, with which we have had good relations for the past 15 years.
I was a bit surprised to find he had booked this particular European show. I didn't want to sink to his level by making anyone aware of it and spoiling it for him and his fans, even though that is something he himself seems to take great pride and pleasure in doing to other bands. Not sure if he is playing in any other venues in Europe where TAAKE also plays regularly.
At the end of the day I imagine this will now give venues world-wide pause for thought before actually booking and promoting him in case he is likely to agree to do a show and then pull out at the last minute because of other bands who have played there in the past, or who are booked to play in the future."