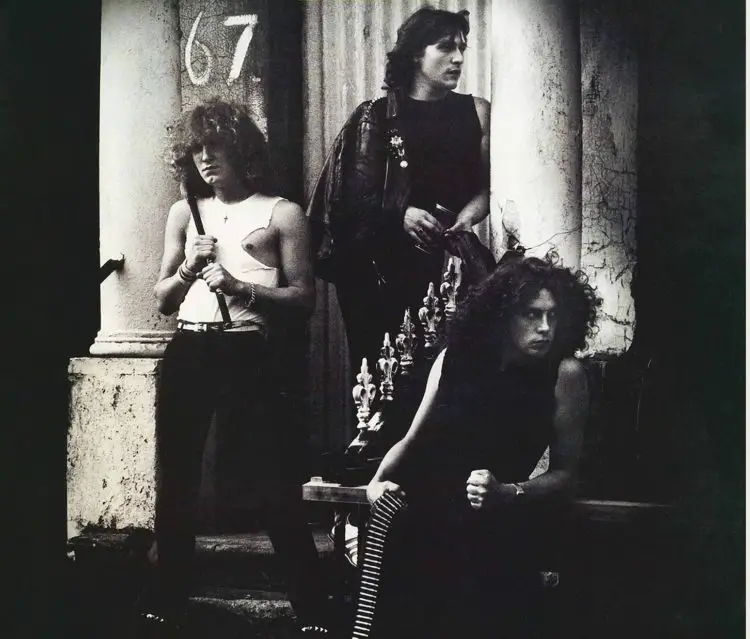 When "Filth Hounds of Hades," TANK's legendary debut album, was released on Kamaflage Records in 1982, it not only made huge waves within the NWOBHM community at home, it also topped the import charts on the East Coast of the United States.
After having toured with Motörhead in Europe in 1981, TANK once again appeared as special guests for Lemmy and the boys, this time on their tour throughout the United Kingdom for "Iron Fist" in 1982. Drummer Mark Brabbs remembers: "Yes, that's right, we did the 'Iron Fist Tour' with them. Any tour with Motörhead is legendary, really. It was great, it was great just going out on the road again. After a long tour you get to know the road crew, the caterers, the sound engineers, you get to know everyone. So when we started this tour it was like seeing old mates again. Brilliant, really brilliant tour."
TANK's second album "Power of the Hunter" was released the same year as "Filth Hounds of Hades" (1982), so two full-length albums within less than twelve months. That's quite a feat. Mark Brabbs thinks so too: "Yeah, that's true. "Filth Hounds of Hades" had sold quite reasonably well all over the world. In those days the world was a lot bigger than these days… So the American release was only an import. In the old days you didn't really get a world wide release, you got an European release and then it was imported. The album sold all around the world and everybody was happy with it: the record company was happy, the management was happy, we were happy. We were still young and it was still a new thing for us. We did put out the second album quick. We didn't want the interest to die. We should have waited for another year, to be perfectly honest. It would have been better to have written it, taken it on the road for about six months and make it a bit more release-ready. But anyway, it did okay. It didn't do as good as "Filth Hounds" but it still sold a good few copies."
"When someone rushes Steve Harris for the next Iron Maiden album," continues Mark Brabbs, "he will tell them to f**k off! They will do it when they're ready. But when you're a young band and your record company says that they want you do to something, then you gotta do it. Well, we didn't have that f**k off attitude towards the record company back then. Listening to it now … I was disappointed back then but listening to it now 40 years or so later it's not bad, it's still pretty good. There is a couple of belters and a couple of fillers."
Read our review here.