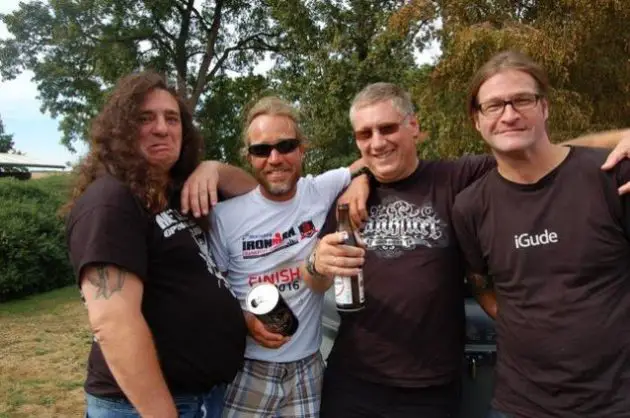 It is their jubilee year! 35 years of TANKARD! And, of course, a suitable soundtrack cannot be neglected for the occasion. The band's 17th studio album entitled "One Foot In The Grave", will be released on June 2nd, 2017 via Nuclear Blast.
The band released a music video of the title track and second digital single "One Foot In The Grave". The official video can be seen below.
The video was produced by Australian video director Aaron McLoughlin. The music video was shoot in the Frankfurt (Germany) in the pub "Alte Liebe" in February 2017. Aaron also produced the animated TANKARD clip of the song "Fooled By Your Guts" in 2014.
Gerre states:
"As Aaron was also already responsible for the comic clip of 'Fooled By Your Guts', we have spared neither cost nor effort to fly him in from Australia for recording this new clip with us. This clip is on the one hand really ironic because of our age but on the other hand also a bit sad. Everything is only temporary! This time we wanted a video without the usual hopping-around with our instruments, we just want to try something new! I think we managed this quite well. Have fun with 'One Foot In The Grave'!"
Pre-order "One Foot In The Grave" digitally and receive "Arena Of the True Lies" instantly or stream the song here.