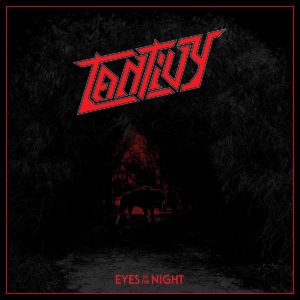 Outrageous! Frigging awesome! Frentic piece of Metal!
What an insane release! It's been some time that I don't hear something so frigging mad and  so schizophrenic with all those dilacerating guitar riffs, storming drums, acid vocals and thundering bass. My dear child of the night, here I present you Tantivy with their debut EP "Eyes in the Night."
Opening track "I Am the Wolf" teaches a lesson on how to be incredible heavy and fast without loosing any inch of emotion. To be really fair with the band it's the track that I've been waiting for some real big time. Its frentic and with so many blazing guns that I can only possibly compare it to my two best headbanging songs ever: Saxon's "Heavy Metal Thunder" and Judas Priest's "Screaming for Vengeance," two gems of Metal music blasts. To say that "I Am the Wolf" paves the way and gives the tone of "Eyes in the Night" album is redundant. Following track "Cut'Em Loose" boosts out a little diferently but soon the sharping kives of Tantivy do it their way. The track also has its moments of cooling out when the speed is for sometime forgotten. I said forgotten? Make no mistake, the fast is the law here and the song turns out with an amazing furious guitar solo. In a way, "Eyes in the Night" reminds the rawness and feeling of Angel Witch early releases. The music sounds as fresh as they did years ago. By the way, I've gotta say that the spirit of the NWOBHM is totally here. I feel the soul of a lot of bands here. The flaming guitar riffs are a very good sample of that. They are just remarkable. Needless to say that all the following tracks go the same insane path. And "Eyes in the Night" is only the debut album. Who can tell what's coming.
I could just go on and on telling all the wonders about Tantivy and "Eyes in the Night." It would be redundant. An album that good we can only listen and listen. And listen some more…
"Eyes in the Night" the most serious candidate for best album of the year for now. And it's only the beginning of January.
Tantivity "Eyes in the Night" will be independently released on January 15th.
Track Listing:
I Am the Wolf
Cut'em Loose
Houndin' Ya
Nowhere
Daggers
Watch "Houndin' Ya" official track here: