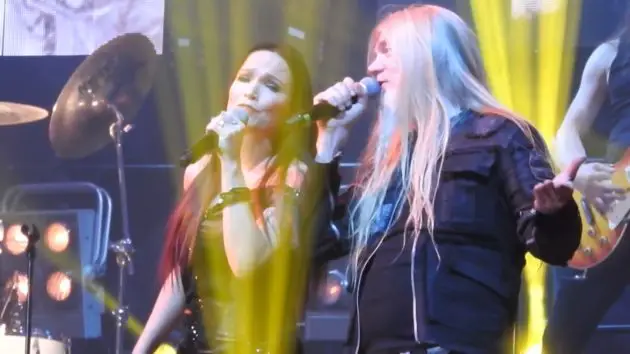 Former NIGHTWISH singer Tarja Turunen and current NIGHTWISH singer/bassist Marco Hietala performed live together for the first time in 12 years during this past Thursday's (December 14) "Raskasta Joulua" concert at the Elenia Areena in Hämeenlinna, Finland.
After the last concert of the Once Upon a Tour on October 21, 2005 (which was released on video as End of an Era), Holopainen and the other band members informed Tuomas Turunen in an open letter that the band did not want to work with her any more, accusing her of diva-like behaviour and greed:
To you, unfortunately, business, money, and things that have nothing to do with those emotions have become much more important.
The split and, due to the open letter's allegations, Turunen's character became the subject of close media coverage. Turunen responded through an open letter on her website and through some interviews in which she explained her view. She was upset that after nine years of working together, Holopainen announced the separation via an open letter. Because of the continuing media interest, Marcelo Cabuli posted a message addressing the situation on the website in February 2006. He asked that anyone who had questions should email him. In June 2006, Cabuli posted a lengthy reply to many of the questions he had received. He answered questions related to the greed accusation by explaining that the band had agreed on the distribution of earnings in a contract at the formation of Nightwish. Based on that contract, every band member got a fixed share of 20% of the band's income. Marcelo Cabuli stated that, unlike others, Turunen had never fought for additional songwriter royalties.
For sure in her case, money is not coming first in her book of life. […] If we would check which band member earns a lot more money than any other one in the band, you should be surprised.

— Marcelo Cabuli
Despite the circumstances of the separation, Holopainen's appreciation of Turunen as an artist remained. He explained that he did not search for a similarly trained singer as a successor for Turunen because he considers her to be extraordinarily good in her genre and therefore irreplaceable. Turunen said in an interview that she is very proud of her career with Nightwish. She considers the remaining band members extremely talented and wishes all the best for them and their subsequent lead singer Anette Olzon.
Between 1997 and 2005 she had toured the world with NIGHTWISH, playing on all the continents except Africa and Antarctica. She performed live for more than 500,000 people.