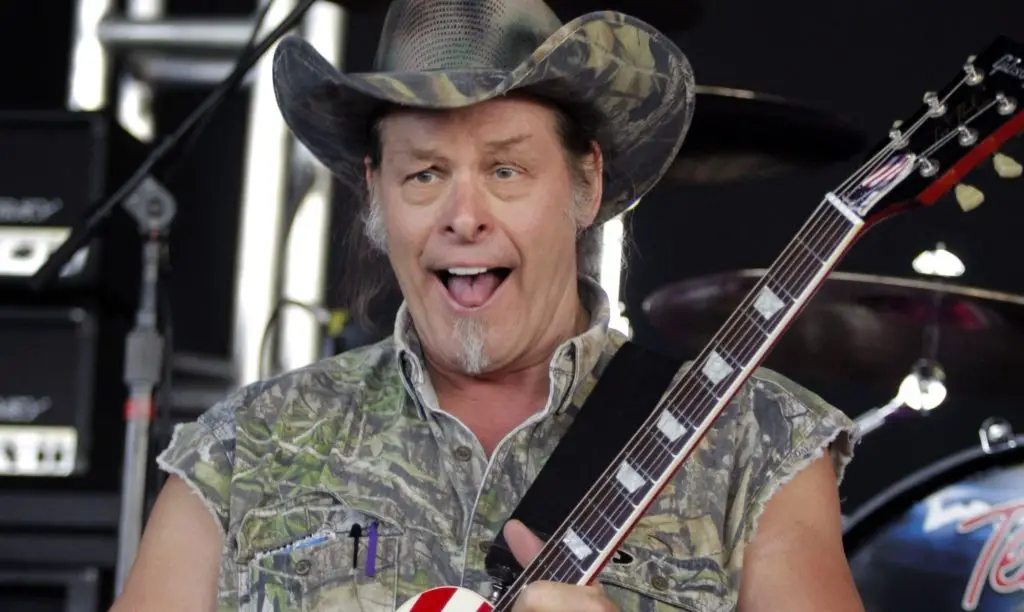 In a new interview with "America This Week With Eric Bolling," Ted Nugent once again praised U.S. President Donald Trump, saying that he is not a typical "power-abusing criminal, punk-a—s politician."
"I see that Donald J. Trump, hallelujah, is not an entrenched, status quo, power-abusing, criminal, punk-a—s politician. He's a hellraiser, working-hard, playing-hard guy that got us back to God, family, country, work ethic, independence — you know, the man in the arena, Nugent said (see video below.
"You bust your a—s to be in the asset column, earn your own way, live within your means, save for a rainy day — all that radical, extreme stuff. And he's my guy — I really love this guy. He came just in a nick of time. And I'm speaking for all my huntin' buddies, all my musicians, my band, my crew, my family, my neighbors, the cops that I train with, the military heroes that I hunt with — I'm speaking for the heart and soul of this country when I talk like this."
In a last month's interview with "London Real" Nugent was asked why is he such big Trump supporter, to which he responded: "Donald Trump was sent here by God. Just like our founding fathers were touched by divine intervention… Because man was not created to live under the control of kings and emperors and tyrants. We need to shoot the kings and the emperors and the tyrants. They're bad people. They think they have authority over free people, and they're wrong.
"Donald Trump was sent here to prove that we the people identify the negativity of the status quo, we are more than aware of the criminal corruption and abuse of power just rampant in the Democratic party and all too often acceptable in the Republican party," he continued.
"And Donald Trump came along with his middle finger on fire, 'cause he was not presidential. 'Cause we didn't want presidential, because all those punks that came before him were presidential and they wrecked everything. And I could go into gory detail, but I would like to think that everybody is well aware of the evidence."