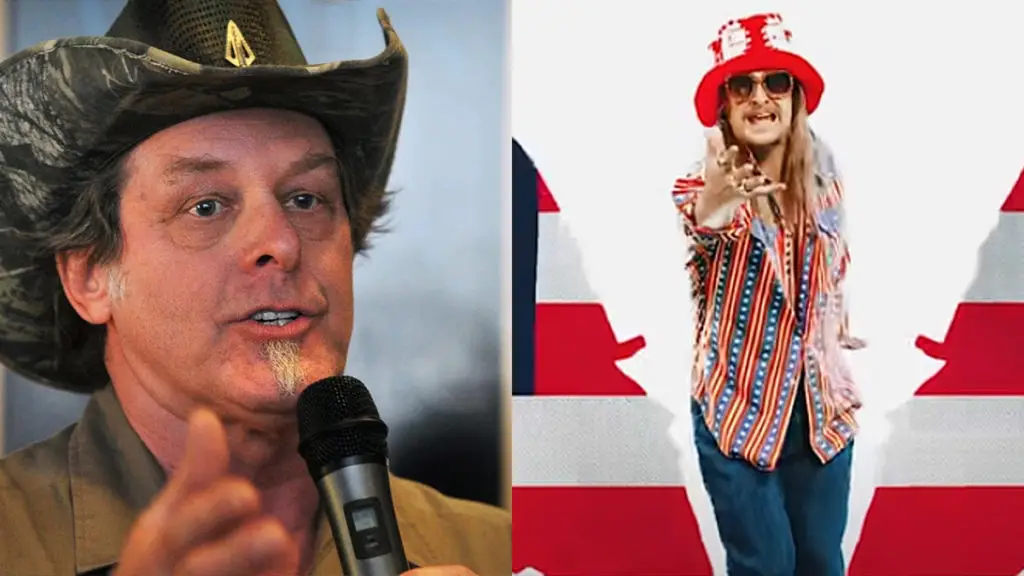 During a recent interview with retired boxer David "Niño" Rodriguez, Ted Nugent was asked why he hasn't yet collaborated on music with fellow outspoken conservative rocker Kid Rock. 
"Kid Rock and I communicate," Nugent responded. "In fact, he plays [the Nugent song] 'Cat Scratch Fever' [in concert] every night.
"Here's a great statement. Panama City, Florida, I think, is making a very profound statement because they hired me to headline the beach bash in Panama City on Friday, April 29th, and the next night they hired Kid Rock to headline the beach bash in Panama City on Saturday, April 30th.
"If they're hiring Ted Nugent and Kid Rock, what do you think they might try to convey with that? It's gonna be a flamethrower of we the people, middle fingers on fire, 'cause he is so on the money."
"I think being raised in the Motor City, I would like to think, since [Kid Rock] likes really soulful, pounding, grinding music — hello? — I think he might have been paying attention to Uncle Ted over the years, and that's why he's got his middle finger on fire," Ted continued. "Because he's an entrepreneur, he has a great work ethic, he is really unbelievably creative in his art, he surrounds himself with virtuosos and other creative entrepreneurial-type individuals, So that's the world I live in, that's the world you live in, that's the world Kid Rock lives in, that's the world all the people in the asset column… People who get up early — that rush hour, pain the a*s, they do it every day because they wanna be in the asset column for their family.
"So Kid Rock and I share that middle finger of independence. And the most important thing on the planet: critical thinking. Anything status quo or standard operating procedure must be scrutinized and you will learn to dismiss it. 'Cause everything status quo is horrible for the American Dream. And that's what Kid Rock represents."