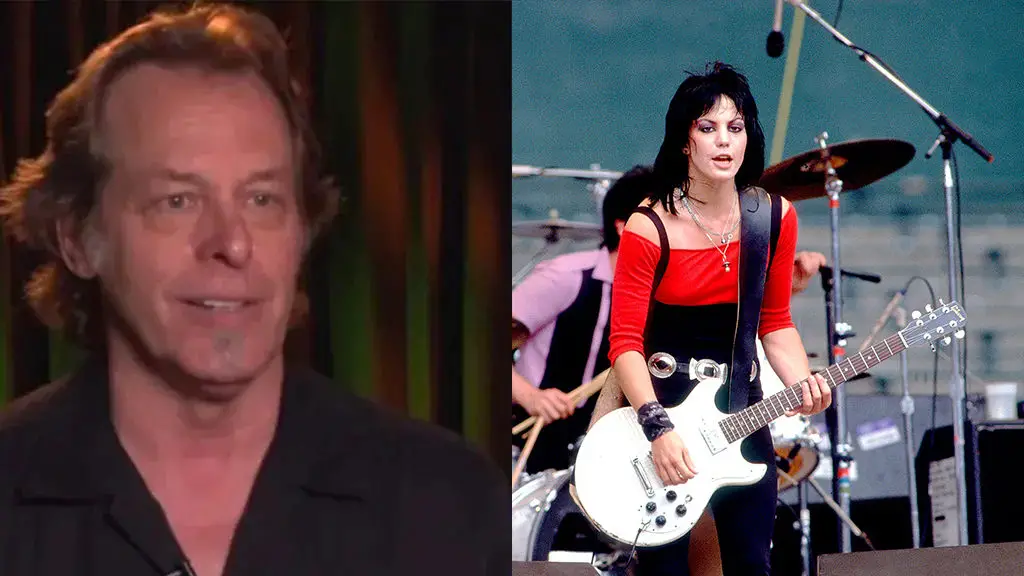 Ted Nugent has blasted Joan Jett after she responded to Nugent's initial criticism of Rolling Stone magazine for including Jett on its list of "100 Greatest Guitarists."
To recall, Nugent railed against Jett's inclusion on the list while praising such great musicians as Angus Young, Eddie Van Halen, Billy Gibbons, Neal Schon, Joe Bonamassa, Derek St. Holmes, Tommy Shaw and Rickey Medlocke during his December 30 YouTube livestream.
He said: "So I just mentioned some killer, monster guitar players, huh? Some of the best that ever lived. But when you see the Rolling Stone magazine list of greatest guitar players, they list Joan Jett but not Tommy Shaw.
"How do you list the top 100 guitar players and not list Derek St. Holmes?" he continued. "How do you do that? You do that by lying. The same way you get Grandmaster Flash in the Rock And Roll Hall Of Fame. You do that by lying. You have to be a liar. You have to have sh*t for brains and you have to be a soulless, soulless prick to put Joan Jett…"
In a recent interview with NME, Jett addressed Nugent's comments after the reporter brought up the fact that Ted insisted that Joan didn't deserve to be on the list.
She said: "Neither should he. Is that his implication, that he should be on the list instead of me? Well, that's just typical — it's what I've dealt with my whole life, being written off. Ted Nugent has to live with being Ted Nugent. He has to be in that body, so that's punishment enough."
"He's not a tough guy," she added. "He plays tough guy, but this is the guy who sh*t his pants — literally — so he didn't have to go in the Army."
"So this is the tough guy who's running around America, stirring things up against each other."
Now, Nugent responded to Jett's comments, calling her "stupid" and once again denying that he dodged the draft. Speaking during a yesterday's YouTube livestream, he said: "All I expressed in an interview on WRIF was how I love Joan and her killer rocking band. She's got a great rocking band. Great songs. The best garage band maybe ever, except for maybe GREEN DAY.
"[I] love Joan — all I said is how I love her. But I used her as an example — along with Joni Mitchell. [I] love Joni Mitchell… People love that music. People love Joan Jett and Joni Mitchell. I love them. I expressed I love them. But she can't be in the top 100 guitar player list — either of them. They play nice strumming guitars; they play nice guitars. I like it. They're good. But top 100 before Rik Emmett of TRIUMPH? That's a lie.
"Joan Jett, I love you," Nugent continued. "Don't get all upset. She calls me a racist and [says] I'm jealous. I didn't even mention that I should be on the list. Let's pretend that I don't play guitar. Let's pretend I'm just a keyboard player, or maybe a gay conga player. I never mentioned my name [as being excluded from] the top 100 guitar list — though someone might. But Joan, would you just relax?
"Maybe the plastic has gone to her brain," referencing the rumor that Jett underwent plastic surgery. "I don't know. I just didn't think she was that stupid. I never said anything about how stupid she was. I didn't think she was stupid; now we know how stupid she is.
He added: "Joan Jett and Joni Mitchell cannot be on the top 100 guitar player list before Derek St. Holmes or Rickey Medlocke or Jimmy McCarty or Mark Farner. Certainly. Or Jared Nichols. Or Chris Duarte. This isn't an opinion. There's no room for an opinion here. I'm mentioning guitar players that are world-class monster virtuosos of undeniable musical authority and guitar prowess."
"How about — Paul Reed Smith is a better guitar player than Joni Mitchell or Joan. I don't mean to hurt your feelings, guys, but your drummer, Joan, is a better drummer than I am. I shouldn't be on the top 100 drummers list. All my drummers should be — all my drummers are amazing. [Laughs]
"But don't you see what goes on? I guess they seek and accomplish the eternal terminal menstrual cycle — you know, the menstrual cycle that the governor of Washington and Oregon thinks that they should have tampons in the boys' bathrooms. That's where we are — you know that's where we are. That's not where we are, but it's where they are steering our great country, our once-great country.
"So, Joan, just relax, honey. I love you. You make great music. But you're not a top 100 guitar player. You must know that. Joni Mitchell, you must know that — I love you, Joni. But you're in the top 100, maybe the top 20 folk singers, certainly. And Joan Jett would be in the… certainly Rock And Roll Hall Of Fame and maybe the top 20 garage bands. THE AMBOY DUKES were a garage band, so that's not a negative; that's a positive. NIRVANA would be maybe number one garage band. BROWNSVILLE STATION number two. Joan Jett maybe number three. GREEN DAY maybe three and a half. See, I'm not knocking these people; I'm just telling you the truth. [Laughs] I didn't know they were that stupid."