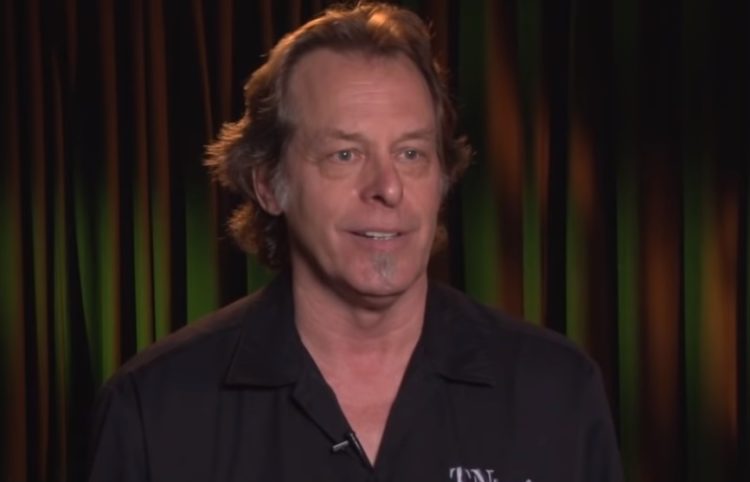 During a recent appearance on "Blunt Force Truth," Ted Nugent discussed his recent appearance on Sammy Hagar's AXS TV reality series "Rock & Roll Road Trip With Sammy Hagar."
"Sammy Hagar just came out, and we shot footage for his 'Rock & Roll Road Trip' on AXS TV. The producers wouldn't let him near me, even though he and I go way back; we're dear friends," Nugent said. "They thought I was dangerous, that I'd come out with a machine gun or I'd slaughter an innocent fawn on television. This is stupidity! I said, 'So your producers were afraid of me, but they did a show with [MÖTLEY CRÜE drummer] Tommy Lee, who's a convicted felon, domestic violence h*roin addict.'
"They're okay with this guy, but not with the Ted Nugent 'Kamp For Kids' charity, teaching kids to be clean and sober. I said, 'Sammy, coldcock those sons of b*tches and get out and let's do the show.' So, finally, they dangerously acquiesced, and we did the number one Sammy Hagar 'Rock & Roll Road Trip' show."
"Sammy's first question to me in the interview was, 'Ted, I've gotta tell you. I know all these rock and rollers. I'm in the industry all my life. And I was in the number one band in the world with VAN HALEN. I do 'Rock & Roll Road Trip's and I get intimate and interview all these people. You're the happiest guy I've ever known. Why are you happy all the time?' And my first response, that he didn't understand at first, my first response is 'I've been clean and sober all my life, Sammy, so I pick up on positives, and I choose to go with positives. And positive, intelligent stuff makes you happy.'
Nugent added: "Now, here's a guy, who produced the number one tequila on planet earth, and he's hanging around with all the people that indulge — not all, but 99 percent of 'em — and he finally had to admit, live on his program, yeah, there's a buoyancy to what I call life radar, that sensual stimuli appreciation of your surroundings.
"I talked about the bird songs that I can hear with my hearing aids — the tastebud orgy that gives a happy culinary pursuit. Clean and sober is the foundation of the happiest life in the world, 'cause you can make clever choices."
You can watch entire interview below.