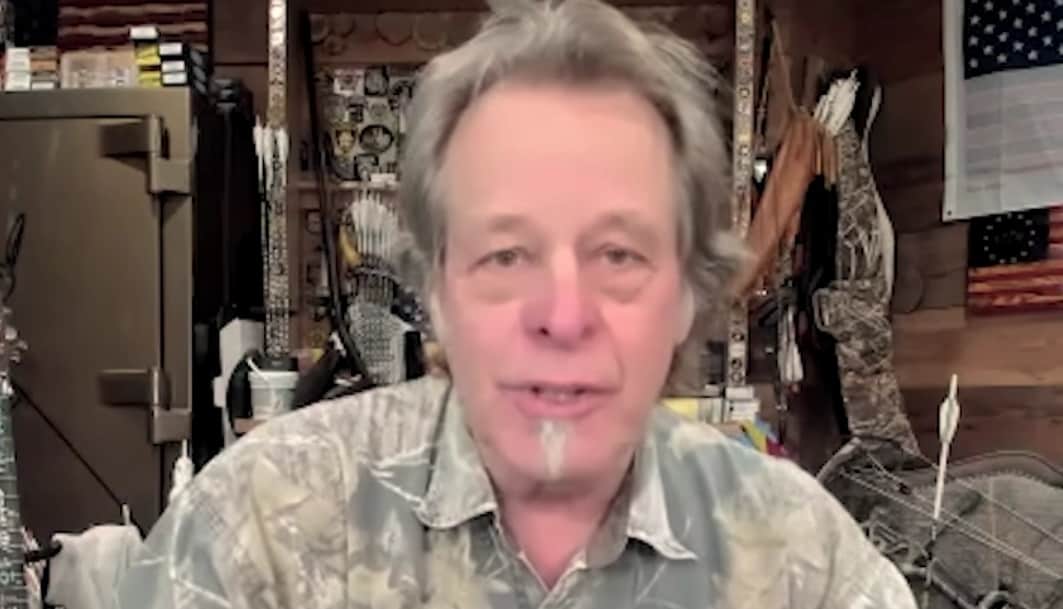 Ted Nugent criticized the Birmingham, Alabama venue that canceled his concert due to negative reactions related to his contentious political opinions.
The 74-year-old musician was set to perform at Avondale Brewing Co. on July 18. However, his event was canceled on May 4, just a day prior to tickets being available for purchase through Ticketmaster.
The choice to cancel the performance seemingly resulted from roughly 1,000 comments posted on Avondale Brewing's Facebook page after the event's announcement, in addition to over 150 comments on the venue's Instagram page.
A local Birmingham bar, Al's On 7th, released a statement declaring that they would no longer support Avondale Brewing Company or its parent company, Good People Brewing Company.
"Al's will no longer purchase any beer from Avondale Brewing Company nor Good People Brewing Company," the bar said in the social media post. "Avondale will be hosting a Ted Nugent concert in July. Nugent has recently made serious transphobic comments."
Upon declaring the termination of the concert, Avondale Brewing shared the news through an Instagram Stories post: "We have heard the concerns of the Avondale community, which is so important to us, and in conjunction with our partners, have taken the necessary steps to to cancel the Ted Nugent concert scheduled for July 18."
During a latest edition of "The Nightly Nuge," Ted spoke about the controversy: "This year, in 2023, I'm going on tour for the last actual organized tour of my life, 'Adios Mofo '23'… And I've gotta tell you, the concerts are selling out left and right — except where some freaks who think that men should go into women's bathrooms and locker rooms and who think that comfortably numb is a desirable condition for your children. They have protested. I think there were six snakes — they were serpents — that protested one of my concerts down in Birmingham, Alabama, of all places. We were selling tickets left and right. They canceled the concert, and the Nugent haters — which is the Michael Moore, Hunter Biden fan club — they actually canceled the concert in Birmingham, but an hour later I booked another gig for more money across the border in Mississippi.
"So when you mess with Uncle Ted, you lose," he continued. "I'm gonna rock my flamethrowing balls off this year and have the greatest concert of my life… So all you people that are angry that I'm happy, have a nice day, because the Michael Moore, Joe Biden, Hunter Biden fan club always gets upset when good people are happy. So get ready for the greatest tour of your life."
Responding to a few particular allegations that resulted in the termination of his Birmingham show, Ted stated: "It's called the Avondale Brewery in Birmingham, Alabama. And again, just the lunatic fringe. Some serpents; they slithered off from underneath the rock. I think six or seven of 'em, and there were big fat men dressed up like women that wanted to sing, 'I love it when you kiss me where I pee.' Now they like that, but they don't love my music. So they protested. And the proprietors bent over rover and they canceled my concert. But again, you see that smile on my face? You can't cancel me.
"By the way, it's 2023. It's gonna be the greatest tour of my life. This has happened all throughout my career because I stand up for God, family and country. And by the way, all the accusations are false. I've never met Courtney Love. I didn't dodge the draft. I've never dissed the Native Americans. I'm not homophobic. I've got gay friends and we snuggle. I'm not racist. I am black. I mean, the whole thing is just preposterous because they can't debate me, so they have to lie and hate.
"And then The Huffington Post and CNN and MSNBC and Rolling Stone magazine, they continue to lie and lie. All the nasty allegations are one hundred percent false. Now, I've made some mistakes in life, but they haven't mentioned any of those. They just keep lying.
"My haters are the dumbest creatures that have ever slithered," Ted added. "And the Avondale Brewery in Birmingham, Alabama has been bombarded with good families, really good, good people, a lot of military heroes, a lot of law enforcement heroes and just good working-hard, playing-hard Americans going, 'Boy, are you people stupid. Because I'm gonna go to the Ted Nugent concert that night anyway, just not at your place.' [Laughs] So it's too funny for words."