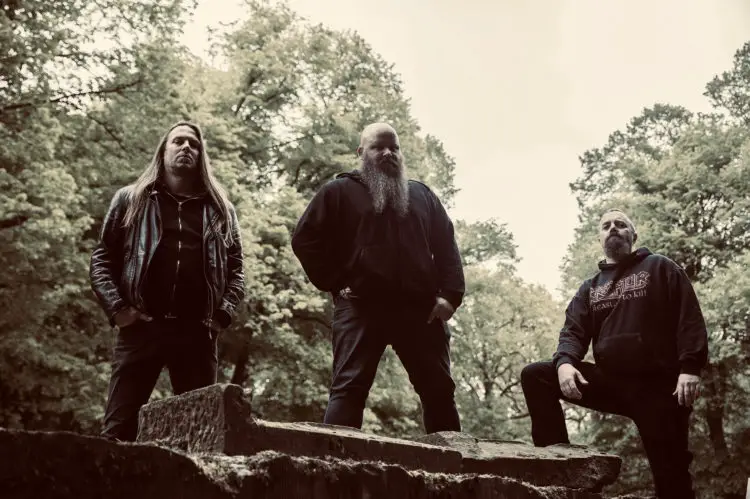 Testimony Records proudly presents the debut album of German Death Metallers TEMPLE OF DREAD!
In 2017, guitarist/bassist Markus Bünnemeyer decided to use his many years of experience as an active musician (e.g. Thrashhammer, Slaughterday) and metal fan to start a new band in the vein of old Death Metal heroes like Death, Benediction, Pestillence, Morgoth and the likes. Together with his school friend Frank Albers he developed a concept for the project TEMPLE OF DREAD. In 2018 Bünnemeyer started composing songs while Albers wrote the lyrics. The music clearly payed homage to fast old school Death Metal, but a very own style emerged. On the one hand this might be due to Bünnemeyer`s special residence – the North Sea island Spiekeroog – as the islanders are usually said to have a mind of their own. On the other hand, it is also due to the creativity arisen from many years of experience. The lyrics of TEMPLE OF DREAD are also remarkable. Albers – psychologist and extreme metal aficionado – writes about the generally threatening, suffering and human abysses. However, he writes his lyrics in a way a little untypical for Death Metal and seasons them with portions of dark black humour.
After the main features of the first songs were finished, the search for a drummer and a vocalist began. The quality of the material convinced Jörg Uken (Drums, Soundlodge Studios, Slaughterday, ex-Stormwarrior, ex-Rumble Militia and many more) and Jens Finger (guitarist of Slaughterday, ex-Obscenity), who wanted to contribute the vocals immediately.
The songs of the first album "Blood Craving Mantras" were recorded and mixed at Uken's Soundlodge studio in East Frisia (Germany) in winter 2018/2019. The results emthralled everyone involved in such a way that it became clear instantly that Bünnemeyer's project had to become more. The band TEMPLE OF DREAD was born! Be prepared for some neckbreaking, skullcrushing and braindrilling Death Metal!
Read our review here.