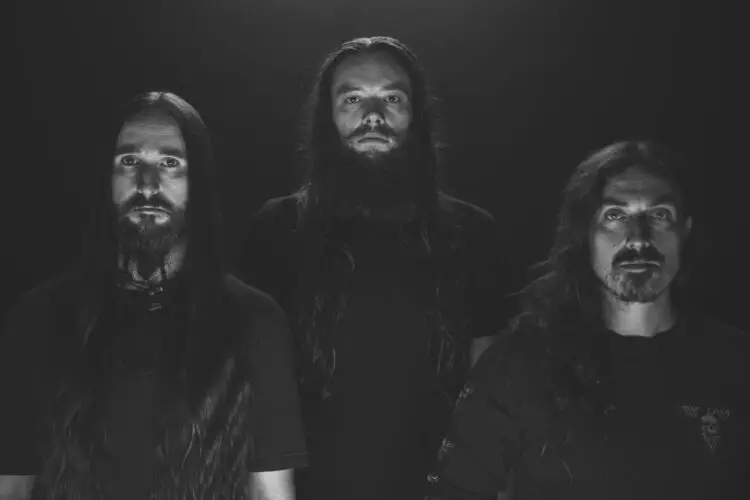 TERRA are one of the most intangible and enigmatic presences to emerge from within the UK underground music scene in recent times. The Cambridge-based Atmospheric Black metal group formed in 2014 and since have worked dedicatedly to carve an atypical niche for themselves with their uncompromising musicality, seeking to communicate a shared experience of existentialism. "Für Dich Existiert Das Alles Nicht," the band's third offering, will be unveiled on September 23rd, 2022.
"'Für Dich Existiert Das Alles Nicht' is the purest example of this bands determination to concentrate all of its unrelenting elements into a pressure vacuum and explode them out into new and unexpected textures that will remain with the listener in a multitude of ways. TERRA have been biding their time; sharpening their claws on the pavement they have dragged themselves through to better utilize a way to gift the most honest statement of intent imaginable."
TERRA have shared the stage with bands such as ASH BORER, YELLOW EYES, VANUM, AKERCOCKE, WINTERFYLLETH, SVALBARD, and WODE, as well as participating in the Blackwood Gathering festival playing alongside URFAUST and LYCHGATE, and providing direct support to SAOR. TERRA create vast soundscapes comprised of multiple instrumental layers to depict moods of chaos and anguish. Emerging steadily from beyond, "The Beginning" initiates a slow descent into the eerie gloom. Building up to intense distortion and high speed riffs, contrasting harsh and soaring textures intertwine throughout this track, and continue throughout "Für Dich Existiert Das Alles Nicht." TERRA manifest an uncanny atmosphere on epic scale. "Verisimilitude" delivers an unbreakable wall of sound with demonic backing vocals appearing as ghostly manifestation among the cinematic instrumentation. The percussion takes a prominent focus, driving the momentum in "Gelbwerdend" while the surrounding instrumentation exhibits a sense of the other-worldly. "The End My End" draws the album to a close exerting a coarse mood, soaring elements lead to an ambivalent edge. The heavy darkness contrasts with anthemic progressions, before a sombre solo piano finale showcasing another side to TERRA.
"Für Dich Existiert Das Alles Nicht" journeys through the twists and turns of TERRA's all-encompassing art. The new album sees the trio push their compositional boundaries to produce a stunning opus exposing the obscure, while providing a small glimmer of the light.
Line-up:
Ryan Saunders – guitar
Scott/Scuz Brophy – bass
Luke Braddick – drums
Read our review here.