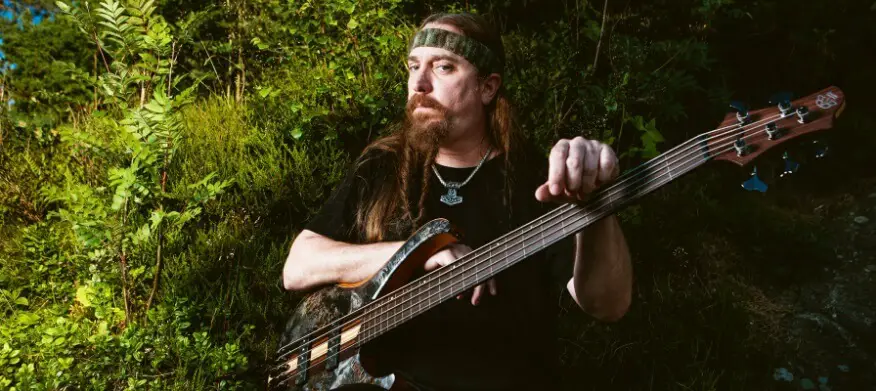 TESTAMENT fretless guru Steve Di Giorgio is featured on SCREAMACHINE's third digital single "Wisdom of the Ages", set to be released concurrently with the band's upcoming self-titled debut album, on April 9th via Frontiers Records. Furthermore, the single features Herbie Langhans (Sonic Haven, Firewind) on vocals.
The band stated:
"More than a legend, Mr. Di Giorgio is considered a titan of the modern bass guitar. His discography needs no introduction: should we mention his contribution to bands like Testament, Death, Iced Earth, Sadus, Spirits Of Fire and so on? We are sure that you all already know this gentleman very well, and we hope that you'll be pleased to hear his unmistakable tone on one of SCREAMACHINE's darkest songs: 'Wisdom of the Ages'."
The fretless guru, Steve Di Giorgio doesn't need any longer introductions, as he is widely renowned as a pioneer on the fretless bass in heavy metal music, being the bassist of TESTAMENT, DEATH and SADUS, among others. Within his genre, Steve Di Giorgio is respected for his playing skills, versatility and incredible technique. He has more than 40 studio album recordings and over 20 years of touring the world.
Hailing from Rome, Italy, SCREAMACHINE is a driving heavy metal driving force. Armed and dangerous with molten metal riffs, the quintet is ready to take the world by storm with their blazing sound inspired by titans like Judas Priest, Metallica, Iced Earth, Savatage, and Accept. Even if the guys from SCREAMACHINE are in love with that legendary 80's metal sound, they are not living in the past. Their aim is to deliver an aggressive and traditional heavy metal sound blended with a modern production and songwriting. The musicians in SCREAMACHINE are no strangers to the metal scene, since most of them are members of respected Italian acts like Stormlord, Kaledon, and Lunarsea, all of whom have been active since the '90's with wide discographies and hundreds of gigs under their belts.
Tracklisting:
1. Demondome
2. The Metal Monster
3. The Human God
4. Darksteel
5. Mistress Of Disaster
6. 52Hz
7. Wisdom Of The Ages
8. Silver Fever
9. Dancing With Shadows
10. Scream Machine
Check out SCREAMACHINE's latest single "The Metal Monster":