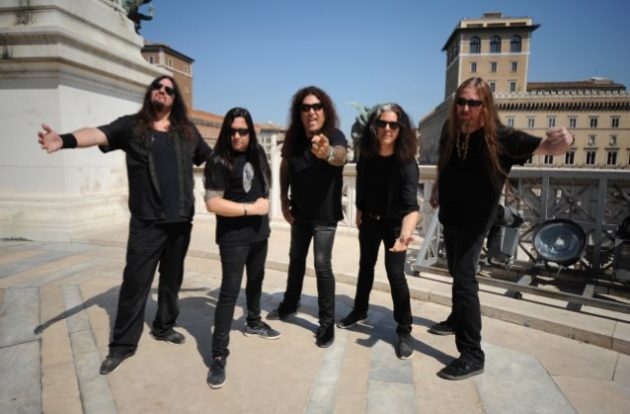 Thrash legends TESTAMENT are thrilled to announce a merger forged in metal: a new long-term promotional agreement with PRiVCY, the hottest new cryptocurrency.
Always at the forefront of musical innovation, the thrash metal legends continue their dedication to the future of technology by bringing the crypto revolution to music fans around the world with the new PRiVCY coin.
PRiVCY is a POW/POS privacy coin project, utilizing several security elements to protect the anonymity of PRiVCY users. Offering fast, secure and cheap transactions, the PRiVCY coin is integrated with TOR and has stealth addresses enabled to provide additional layers of privacy and security.
Go to www.privcy.io to learn more about the benefits of the PRiVCY coin.
TESTAMENT and PRiVCY cryptocurrency are joining forces to offer a unique contest in which fans who buy PRiVCY cryptocurrency (PRIV) earn a chance to win three amazing prize packages. The grand prize includes a huge VIP experience with TESTAMENT when they headline opening night of the Decibel Metal & Beer Fest at the historic Wiltern Theater in Los Angeles, CA on December 1, 2018. The band will perform a special set of both their classic The New Order and The Gathering records in full.
On November 14 at 14:00 UTC (7:00 AM PST), the three fans with the largest amount of purchased PRIV in their registered PRiVCY desktop or web wallet will win the three contest prizes.
The three winners will be announced on November 15 at 14:00 UTC, giving the first prize winner at least two weeks to make travel arrangements to the Decibel Metal & Beer Fest on December 1 and 2, if they live outside of the Los Angeles area. The winners will be announced at testamentlegions.com/privcy and through all TESTAMENT and PRiVCY social media channels.
PRIZES:
First Prize Package (for the winner AND their guest)
1. Free meet-and-greet and photos with all five members of TESTAMENT and a pre-show dinner with Chuck Billy and Eric Peterson
2. Two (2) free tickets for both festival days and includes free beer tasting ($300.00 retail value)
3. Two (2) special commemorative TESTAMENT/PRiVCY jackets featuring a unique TESTAMENT/PRiVCY graphic design
4. Two (2) special VIP backstage passes
5. The winner and their guest will watch the TESTAMENT show from a special VIP area
6. $100.00 worth of beer tickets to sample the many awesome craft beers on sale
Second Prize
A one-of-a-kind 20 x 10 foot (6 x 3 meters) autographed TESTAMENT show banner of The Formation of Damnation album cover that was used on tour with TESTAMENT around the world. Many hardcore fans and collectors of TESTAMENT memorabilia will covet this second prize more than the huge first prize.
Third Prize
A collection of autographed TESTAMENT CDs, vinyl and DVDs from their incredible 35-year discography.
TESTAMENT vocalist Chuck Billy says, "When creating TESTAMENT music, we always use the latest technology. It's something that we insist on. And we like to be the first to use anything that's new, cutting-edge and cool. Cryptocurrency is something that we're excited about. We dig their technology, vibe, attitude and commitment to be the best privacy coin in the world. Our goal is to enable fans around the world to buy TESTAMENT music and merchandise with the PRiVCY coin."
TESTAMENT guitarist Eric Peterson says, "Cryptocurrency is something we've been very interested in for a while now, so when we were presented with the opportunity to work with PRiVCY, we jumped on it right away. They not only have a hard-working and innovative crypto team but they also like metal, so they're our kind of people."
Go to testamentlegions.com/privcy for full contest details, how to register, and how and where to buy the PRiVCY coin (PRIV) to compete in the contest for these three incredible prizes.
There will be other cool contests and promotions coming from the TESTAMENT/PRiVCY alliance. Keep an eye on the PRiVCY and TESTAMENT social media channels for more exciting upcoming information.
TESTAMENT and PRiVCY: a merger forged in metal.