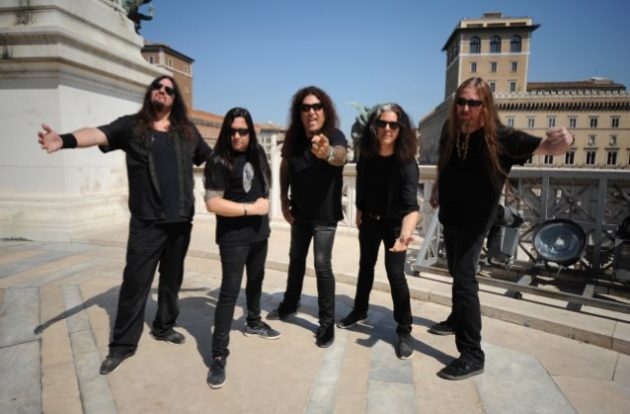 In a recent interview with Kimberly Bulletin, TESTAMENT frontman Chuck Billy said that the band will soon end their tour and get into the studio to record a new album.
"This will be the final lap for us touring in support of our latest album, 'Brotherhood of the Snake,' Chuck said. We want our focus, during this and after this, to dive back into the songwriting process.  We want to release a new album in 2019, so we need to get started soon. Eric [Peterson] and I are still the main songwriting force within TESTAMENT, although of course, we're wide open to whatever the other guys want to bring to the band as a whole.
"Eric will crank out all these amazing riffs and I'll write the lyrics. We fumble around until the main skeleton of the song comes together and then we'll flesh it out until it's complete. Alex and Steve and Gene, adding their talents? It's crazy!
"We wait until we're off the road to hone in on new songs, or tossing ideas around, or demoing song sketches and such. When you're onstage under hot lights, blasting out high-intensity 100-minute sets, most nights of the week — we're just wiped. When it's time off — it's TIME OFF!
"There's usually not a lot of post-performance adrenaline left in the glands, so everyone usually relaxes in their hotel rooms. On this tour, on the times when we do link up with Slayer, we end up playing a much shorter set. We then end up with more time on our hands."
TESTAMENT's latest album, "Brotherhood of the Snake", was released on October 28, 2016. It is the band's first studio recording with bassist Steve Di Giorgio since First Strike Still Deadly (2001). "Brotherhood of the Snake" also marks TESTAMENT's fifth collaboration with Andy Sneap, who had mixed and engineered all of their albums since "The Gathering"(1999) and produced "Dark Roots of Earth" (2012). The album debuted at number twenty on the Billboard 200 chart, making it TESTAMENT's second highest charting album in the US, behind "Dark Roots of Earth", which peaked at number twelve four years earlier.