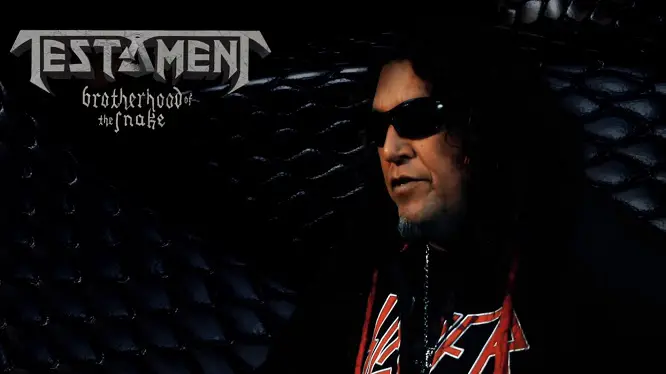 Legendary bay area thrash metal giants TESTAMENT have released the first of several trailers for their upcoming 12th album, "Brotherhood Of The Snake".
Watch vocalist Chuck Billy and guitarist Eric Peterson, speak about the touring that lead up to recording and how that affected their song writing process:
"Brotherhood of the Snake" will be released on October 28, 2016 via Nuclear Blast.
The track listing is as follows:
01. Brotherhood Of The Snake
02. The Pale King
03. Stronghold
04. Seven Seals
05. Born In A Rut
06. Centuries Of Suffering
07. Neptune's Spear
08. Black Jack
09. Canna-Business
10. The Number Game
The cover was once again created by renowned artist Eliran Kantor, who also handled the art for theTESTAMENT's last album, 2012's "Dark Roots Of Earth," and also worked with bands like HATEBREED,SOULFLY and KATAKLYSM in the past.
"Brotherhood Of The Snake" was recorded under the watchful eyes of producer Juan Urteaga (EXODUS,HEATHEN, MACHINE HEAD), guitarist Eric Peterson and singer Chuck Billy and was mixed and mastered by British metal producer Andy Sneap (ACCEPT, ARCH ENEMY, CRADLE OF FILTH, KREATOR, MACHINE HEAD,MEGADETH).